Cindy.Chen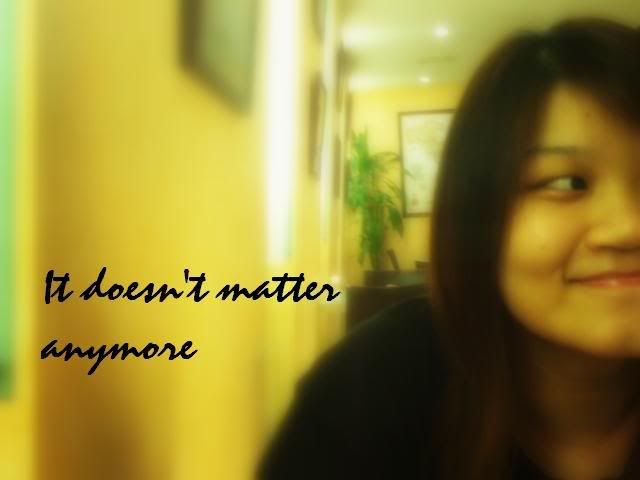 About ME


+25th Jan 1988.
+20 years old
+PSBAcademy.
+mhss.
+family.
+music.
+travel






Friday, December 01, 2006

its december already!damn fast!
i dont know if anyone,especially those who has been talking to me lately,even realise the way i talked.i,myself only realised it now becus someone told me about it.LOL!im damn not paiseh for dat man.

i used to annoy people by saying 'is it?' ok wait,i didnt actually intentionally want to annoy people.its just dat the word 'is it' comes out SOOOO fluently and i cant stop myself from saying it.and when i say 'is it',i sincerly meant it as 'is it' as a question or,maybe,amusement.but,derrick loves to exagerrate it and make it sound damn annoying.he will go like 'IZZ-ZZIT'.you know what i mean?

so now i've again,unintentionally used the word 'and then?' to answer/ask a question.

'cindy,you know ah.....*blah blah blah*'
'oh,and then?'

OR

'so you going home now?'
'and then?'

its just the way i talk lah,you know what im saying?its so convenient to just say 2 words instead of like..

'so you going home now?'
'yah,or where you wanna go?'

ok wait,i could have just said 'yah'.eh,dats not the point.i think i should learn to give long answers.

anyway,went out with rui xue today.we ate so much man!first,we went to Paragon's Din Tai Feng and i swear the fried rice is SOOOOO DAMNNN GOOOOOD !!!!im not supposed to eat prawns but i dont care,i practically gobbled down 3/4 portion of the rice leaving only a small portion for ruiza.HAHAAHAH!poor thing ah.and the xiaolong baos.tsktsk,the juice just 'per-zi' into your mouth without you knowing.YUM!
then,we walked all the way to far east for some dessert at Gelare.sat there and went through abit on how to start on my project.after dat,we met up with tecksin at mcdonalds and ate again.

and yay,i didnt take cab home ok?cheers to that!=) in fact,im starting to love bus trips all over again.i dont know why!when i was in primary school,i used to take a bus until it reaches the interchange as i dont want to go home so early becus i know there'll be tonns of assement waiting for me.

but i cant do that now even if i want to becus..

ADULT FARE KILLS!!