Cindy.Chen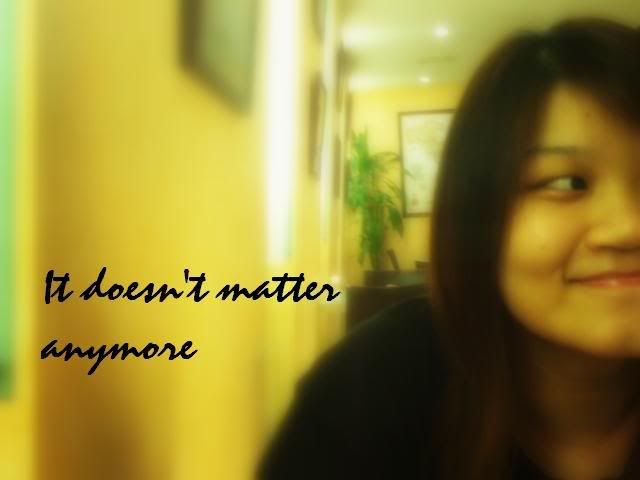 About ME


+25th Jan 1988.
+20 years old
+PSBAcademy.
+mhss.
+family.
+music.
+travel






Friday, August 25, 2006

Cindy Chen's theory on borrowing money from different level of friends.

$20 below = Friend
$20-$50 = Good Friend
$50-$100 = Best Friend
Above $100 = True Friend
$150 and above = Really,Very True Friend

AND ITS PROVEN.Ruiza is under the Really,Very True Friend catogory cus i owe her nearly a total of 200 bucks!=.="i'll explain why later.

first and foremost,im pissed.i actually flunked my BDT which was damn bloody chicken feet.it was the just-use-your-common-sense kinda questions but i dont know how in the world did WE managed to fail.yup,not only ruiza and myself flunked the test.PLENTY of them too.wasted my trip there and my sleep!AND MY MONEY!!!!RRRRRRggghhhhh!!!so we had to pay AGAIN and wait for another month to take the test AGAIN.i dont mind re-taking if the test was hard BUT i just cant swallow it becus the test was REALLY DAMN EASY!!!!=((

so anyway,we took a bus down to marina square as we were meeting kaijia there.we spent a total of 5 hrs in cafe cartel(in between while waiting for kaijia and jiahui to arrive).ruiza and myself was trying to eat as slowly as possible while waiting for kaijia to come becus we both have a habit of eating fast.and,before we could finish the food,we were already damn full.

sat there and talked all the way till 5+pm.so i was telling them about my borrowing money theory and i bluffed kaijia and jiahui dat i owe ruiza more than 150 bucks dats y we are true frens and they actually believed.HAHAHAA.and they even asked me how come so much..how was i to know it really came true?!=p so after dat,kaijia and jiahui had to go so me and ruiza went to walk arnd again and decided to go for some groccery shopping!!hahaa,i cant imagine if we live together man.the whole trolley will be filled!

this is the part why i owe ruiza money.
a few days ago,i was asking my dad..more like CONFIRMING with him if the card he gave me will be accepted if i go groccery shopping.without a doubt or any hesitation,he was like..

'can lah,i say can means can.dont keep asking.the card is accepted EVERYWHERE.'
*note,EVERYWHERE.*

so fine,i HAD TO trust him.in the end?i went Giant for the groccery shopping,scanned everything,handed my card over to the cashier and... ..... ......

'sorrie mam,we dont accept this card here.'
'har?'

without me asking ruiza to help me pay first,she automatically took out her wallet and walked towards the counter to help me clear the bills.LOL!!oh my!i repeat,AUTOMATICALLY.hahaah!she's like my ATM lah seriously.

so i reached home and the first thing i did was to go to my dad's room and thank him for the assurance.and he can actually laugh at me!i knew it lor!i told ruiza before we went home..my dad sure will laugh at me one,and he didnt prove me wrong.he act so innocently 'si meh??(is it??)i really dont know lor'.just imagine if i were there ALONE.pheww~

lesson learnt,go figure out urself!;)
work tmr,sian!!!!

for the past few days,ive been 'doing research' on Britney Spears and Justin Timberlake.hahaa,yes i know..no link at all.but seriously,this video made me cry(and others too lah actually).they were picture perfect man!ive never been a britney nor justin die-hard fan but i do like them lah.and guess what?after i watched all the videos..and i mean every single one of them,im beginning to like them even more.i dont know why!but its really sad to see how britney's life have changed so dramatically.from a damn sweet looking young and innocent gurl to a..well,i dunno how to describe.i must say this,she looked BEST when she was with Justin Timberlake.dont believe me?go see for urself.

okai,im gonna go now!CIAOS!!


cry with me man!