Cindy.Chen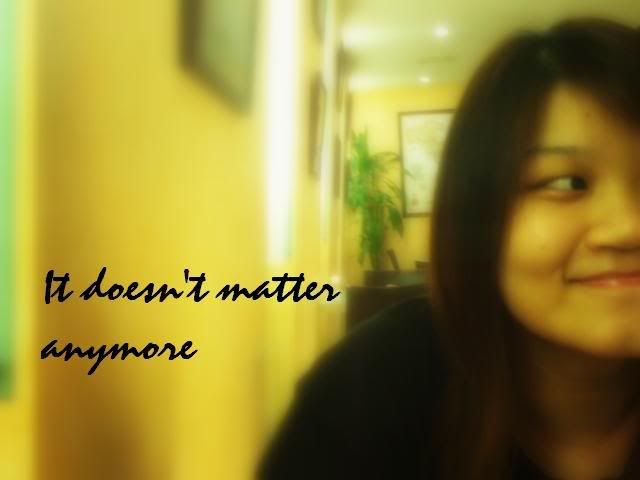 About ME


+25th Jan 1988.
+20 years old
+PSBAcademy.
+mhss.
+family.
+music.
+travel






Monday, August 28, 2006

i cant believe i just finished watching 'Ying Xiong'.and i cant believe i actually liked it!HAHAHAAHAH!i didnt catch it when it was out in the cinema becus i tot it would bore me to death!oh shit,nono im not a boring person lah oie!

the show is really not bad leh,surprisingly.but the Zhang Ziyi was like an extra in the show.LOL!!ok sorrie just kidding dudette!Tony Leung is totally SUAVE man!!woooo!!and the digital effect i'll give thumbs up..especially the slow-motion part when Jet Li had to use his sword to aim at this brush dat was thrown in the air and slit right through it.and at the end,u can hear a 'purt' sound.POWER!!!
the moral of the story is good too..dont carry too much hatred in u.yes i know,easier said than done.if everyone thinks like the character in YING XIONG,there'll be world peace already.and wait,i dont think when pple..especially women,say they want world peace is bimbotic at all.haaahah!really lah!

but u know what?believe it or not,even after the show..i still dont know if Qin Shihuang(King of Qin Dynasty)is a good man or not.HAHAAHA!so i quickly run to my dad's room and he was so danm surprised i actually watched it too.he was like,

'WAH!!!(not exagerrating at all)u actually watched it ah?!u wan i got all the books in the room,u can go read them and figure out urself if hes a good man or not!'

=.="!!its as though im asking myself right?so enthu to let me read all his ancient-like books man.goodness!

anyway,here's to you karen bitch!HAPPY WORKING TOMORROW!!!remember to wash the cars until

SHINY SHINY HOR

!!no lah,i really think they'll be understanding enough not to let u wash cars lah.change tyres will do!good training!no more flabby arms;)LOL!jk bitch!but do help me look out for handsome cum rich cum gentleman cum nice bods hunks ok?i will reward u handsomely!wakakakaka!

aiight,i think i'd better go now.im working tmr too,saddening.i'll help u guys look out for obasang who BURPS non-stop like a burping machine ok?