Cindy.Chen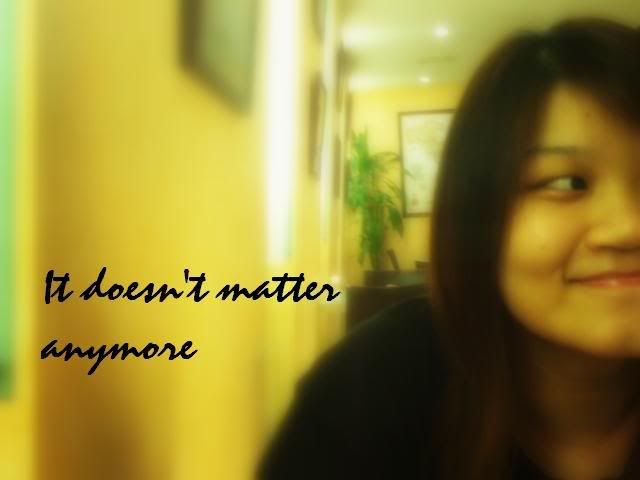 About ME


+25th Jan 1988.
+20 years old
+PSBAcademy.
+mhss.
+family.
+music.
+travel






Sunday, August 27, 2006

it feels so weird to be staying at home on a saturday at this time.im not saying i miss having class but it feels strange.hmm,maybe i do miss it?=.="

harya,4 sept will come.then i will dread the thoughts of it.THATS ME lah,weird but loveable.LOL!!i am so funny.

senseless.

and yes my darl ruiza,i read.hahaah!i told u britney and justin looked good together!;)i had a really weird but somehow good dream last night.a dream dat will never come true..hurhur!:'(

im so bored!!guess what?ive been compiling lyrics from different songs to make it a song itself.LOL!!i'll share it with u guys once im done with it ok?
i wonder how would it sound like if i were to compose a song myself.ok,no need comments from u pple,shut it.

work was a torment for me yesterday!and it was the BEST example i could ever find to describe the word Annoyance.

this woman,i dont know if shes suffering from some serious burp-rrhoea or something,she burps every 10 sec THOUGHTOUT THE DAY HOR!im SO NOT exaggerrating at all ok!thank god she was sitting quite a distance from me..if not,i'll die of disgustion.she made me hate pple who burps even MORE.women especially.GROSS TO THE MAX lah.everytime she burps,i'll get super annoyed.trust me,if ure someone who doesnt mind 'the burping sound',u should really go try sitting there the whole day listening to the 'burping music'.it was to the extent i wanted to just go straight up to her and tell her to shut it.from where she gets all dat GAS,ask her.she burps like as though she wants to compete with the roar of the thunder.and guess what did one of her colleague actually told her?

'oh..u know u sound like baby having hiccups.'

WAH!!!i wanted to kill dat colleague of hers SOOOOOOOOOOOO BADLY LAH!!!total pui-ness.sound like baby.its the worst and the most disgusting curry-favouring words ive EVER HEARD.
maybe i should also try burping infront of her to show her how annoying it is huh?

urghh!enough of dat.

ANYWAY..
theres alot of things i want to and need to do but i dont know where to get started.HOW?i feel so pressured suddenly.its been so long since i felt dat way..