Cindy.Chen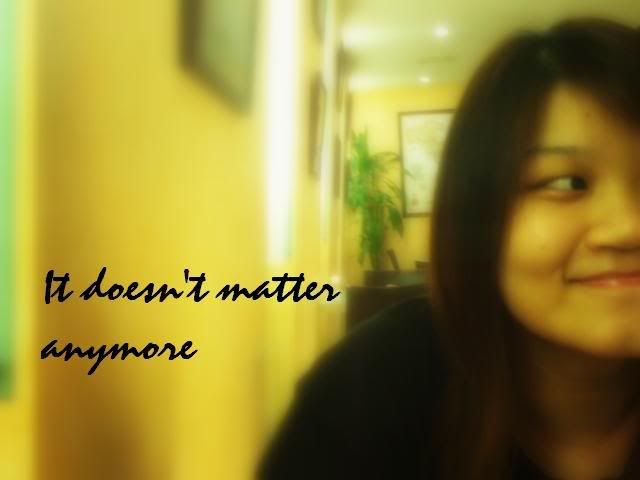 About ME


+25th Jan 1988.
+20 years old
+PSBAcademy.
+mhss.
+family.
+music.
+travel






Saturday, August 19, 2006

time for an update!

went out with esther yesterday after work.initially,i wanted to try going out alone.ALONE,yes alone.hahaah!well,it doesnt seem to be a great deal for myself but i just dunno why i cant stand it when people tell me they're alone.its weird i know.

shopping alone is great though!


BUT..


NEVER EATING ALONE.


(i think i'll sob while eating.or just cry on the table)



the food will NEVER taste nice when u're alone,trust me on that.

anyway,so i met esther at PS and we wanted to catch a movie at first.but there's no other shows and plus,i feel movie is a waste of time so we decided to walk around.and for the first time,we really didnt know where to go.usually when we go out,we'll be damn steady.we'd suggest a place and without any hesitation,we'll just go.but yesterday was a different story.

we went to cathy to take photos with non-living things.HAHAHAA,it was quite funny actually.and after which,we walked aimlessly.*shit,my eye just twitched* but in the end,we took a bus down to holland v and settled down in a very cosy cafe.

im seriously considering holding my next bday there.

its sort of my 'ideal cafe'.the one i've been mind-mapping out myself.the ambience and everything..i want my cafe to be something like dat!but,of cus..in addition to SOME OTHER THINGS(which i'll not reveal until i really open one).

so we were basically chilling out and,after a day of forcing her to get something out of her chest..erm,literally,she finally did and the day ended pretty well.becus it feels rather weird in the beginning as she didnt really talk much and somehow,if ure someone whos observance enough(ahem)u'll notice and u wouldnt really know how to get the ball rolling..FOR ME AT LEAST LAH.=x

took a cab back becus i was totally worn out and i hate myself for allowing myself to keep doing this.just 3 days and ive spent more than 20 bucks on cab fares.KILL ME lah?dont start saying im a brat becus u wouldnt know how it feels to be waking up at 7 in the morning when u've been waking up at 2 in the afternoon ever since..5 mths ago.(unless ure in the same state as i am,or have been living the same lifestyle as me but suddenly making a drastic adjustment to ur body clock)and just imagine having a class after dat,wouldnt it kills?

speaking of which,tmr's my last lecture for this module.and taadaaah!my holidays are here.makes no difference anyway..WORK!!!but all i can say is dat,its really fast.alrite,i think i'd better be going now!gotta hit the sack before the clock strikes 12..niteee!