Cindy.Chen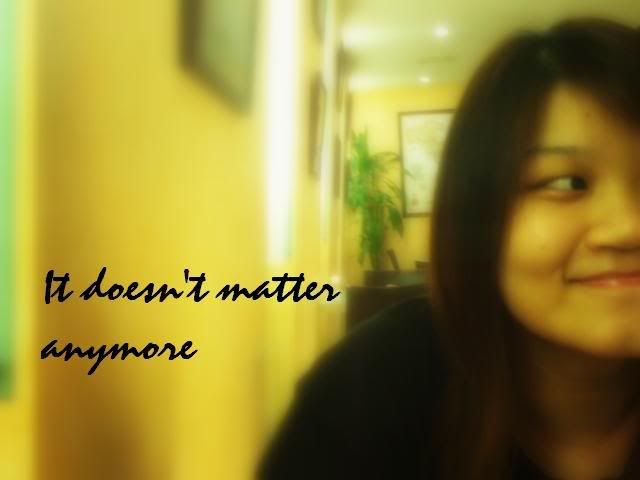 About ME


+25th Jan 1988.
+20 years old
+PSBAcademy.
+mhss.
+family.
+music.
+travel






Friday, September 29, 2006

had a really HEAVY dinner just now.and im feeling uberly ultra-ly FULL.i realised everytime when im back from Newton,my stomach will be bloating like crazy(yah,when it actually looked bloated in the first place).

anyway,sch has started,again and this time the lecturer is omg.ok lah,actually hes not dat bad..in fact,i find him really cute.hes old enough to be my grandfather by the way,so cute as in a grandfatherly kind of cute.

he so remind me of Mr Seow lah!
but a cuter version.
but i like Mr Seow too.
but dats not the point.

so we stepped into the class and were expecting some female lecturer becus when we saw the name on the screen before we went up,it looked as though it was a lady's name.

the lesson started and when the lecturer uttered his first word,the class burst out in laughters.yeah,i gotta admit its damn mean but seriously,its really damn funny.best thing was,the lecturer joined in the laughter too.

funny senerio 1 :-

lecturer:so you all have any questions or not ah?if have,just ask..but i cant answer all the questions,ah.

funny senerio 2 :-
*while he was explaining the different terms of the words*

lecturer:ok ah,now see.the word Quantity means the amount of something(and he gave an example)and the word Quality means...Quality lah.

funny senerio 3 :-

-one of my classmate suddenly stood up and walked to the door becus he was damn urgent to go release some nature-

lecturer:eh eh,where you going ah?where you going ah?
classmate:toilet lah!

funny senerio 4 :-

-a classmate came late;lecturer saw her;she sat down for abt 5 mins already,

lecturer:eh eh,who just came in ah?who just came in ah?

lol!it was really damn funny!every sentence,he'll end it with an 'ah'.i do feel guilty laughing of course!but very hard to control leh.but i do respect him lah,really.

and for the first time,sheena and myself took a bus back instead of cab.totally proud of ourselves man!and for the first time again,i took a bus to my grandma's house instead of a cab.OH MY OH MY.

at least when i made a promise,i stick to it.

everyone around me is falling asick,including myself.bad weather,bad bad weather.

I really cant stand some people!!


totally irks me.urgh!