Cindy.Chen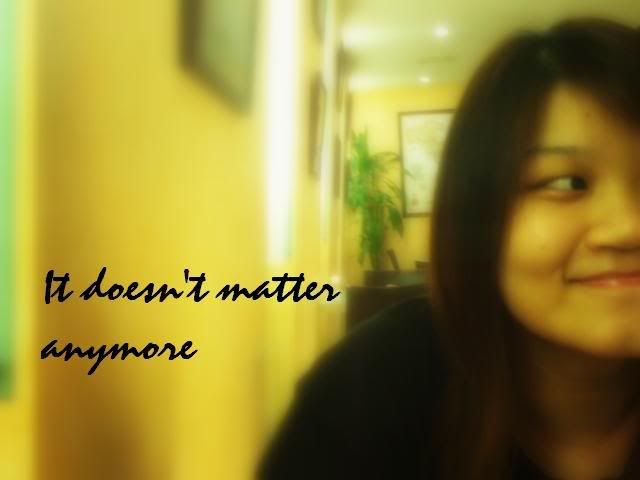 About ME


+25th Jan 1988.
+20 years old
+PSBAcademy.
+mhss.
+family.
+music.
+travel






Saturday, September 16, 2006

on MSN..

me:you know my email?
camagni(well,its Adriano):are you happy and you know it clap your hands @ hotmail.com

LOL!!i almost died of laughter.yes,i know the correct version is 'WHEN you're happy.....' but i mean dat song never came across my mind man!HAHAHAH!and to add on,Adriano is friggin HOT now lah!!damn him.=p but he is still as crappy as ever.hot+crappy..hmm?doesnt really go well together rite?

heck lah!
=)

HIHI!its been some time,again!heheee..
so anyway,something more solemn.went over to my grandma place just now while they attended a funeral which in turn,turned out to be my friend,Sky,uncle's funeral.i was quite happy to see her at the void deck at first becus it was so coincidental.so i asked her what was she doing there and she told me her uncle passed away.and i immediately didnt know what else to say..

its always the same old consoling words but seriously,how could you not feel like shit when your loved ones passed away?up till now i still can remember the pain i went through and the amount of tears i cried when my grandfather passed on when i was only what,6 years old?

its human nature i guess.dont know what you've got until you lose it..do we really know the true meaning behind it?DO WE?

and this month doesnt seem to be a good month.it felt like..a lonely month?as in,not for me.i mean..the world,the surroundings.people are leaving..you know dat kinda thing.i hate this!i really do!i hate goodbyes..where is the good in goodbyes?

ok,dont worrie..cindy's post can never be emo.somehow,in a way or another..there MUST BE SOME CRAPS.LOL!!oh,not funny?yah,its not supposed to be lah,siao.

ANYWAYs,my elder sis is BACK!!(actually,a few days back.)lol,i was just being damn bloody lazy to update lah.so yea,she brought back LOADS of stuff and i mean LOADS.chocolates,bags,gifts,wines,tibits..you name it,she has it.the whole living room was filled up with all the goodies man!it feels not good,but great to have her back home!ive never felt like dat before for the past 16 years of my life while she was still in sg.we will fight over practically EVERYTHING.fight as in,literally and visionally.LOL!!but now,man..it just feels different.it really shows us dat we are really grown-ups.no bhb here please.

just go grab anyone and ask them if the relationship between themselves and their siblings has improved as they grow older,90% would tell you a definite YES.unless of course,their relationship wasnt that bad in the first place.

life is really too short and too unpredictable to know whats gonna happen next.so people,enjoy ur life and treat it like its ur last!(ok choy!)but u know what i mean lah uh?cheers!