Cindy.Chen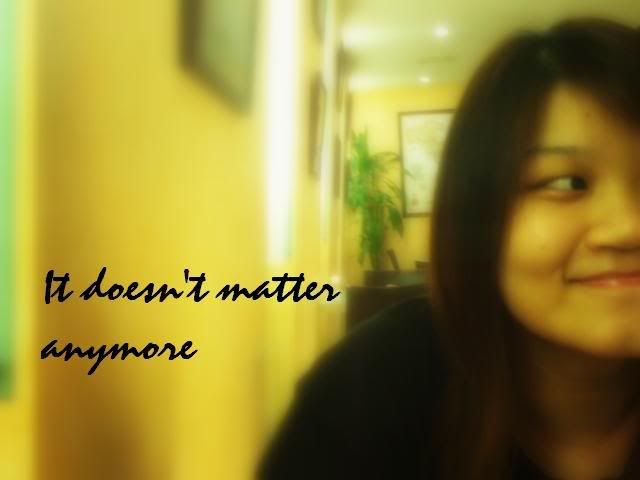 About ME


+25th Jan 1988.
+20 years old
+PSBAcademy.
+mhss.
+family.
+music.
+travel






Wednesday, September 20, 2006

YO!!

went to watch Singapore Dreaming(yea,what a movie to watch right?!I KNOW!!)with my sisters yesterday.no,how can it be my idea?my elder sis wants to watch it,so yea..we COMPROMISED!

i dont even understand what was the show about?

oh wait,i do.MONEY!!!



$MONEY$

MONEY$

MONEY$

MONEY$

MONEY!!



EVERYTHING ALSO MONEY!!

ANNOYING PIECES OF CRAPS!

CHILL~

anyway!today at work..

him:sorrie to disturb u ah..but i ask u something can?give me advice.
me:sure
him:HOW AH?MY WATCH DAMN SMELLY LEH!i tried all the methods already..use soap,soak in the water..EVERYTHING!but still very smelly!
(him=funny colleague)

*looks at him while he explain,with all the saliva

SPLASHING

out from his mouth,on why his watch stinks*
i almost burst out in laughter lah!but i just gave him the so-what-you-want-me-to-do face.he really looked damn helpless man!my heart was thinking 'just get a new watch lah!?' but i came up with stupid suggestions such as a 'watch-cleanser'(if theres ever such a thing!)or just leave it for a week.lol,sorrie..nobody has ever come to me for advice on 'how to have a nice smelling watch'.

you know spending most of ur time in an air-conditioning room is really So sO SO damaging to ur skin!?!my skin is SOOOOOOOOO DRY to the extent i feel my face may crack anytime if i change my facial expression.YAH,THAT BAD!!=(

aiight,i think i'd better be going now!im learning to sleep early yea?heheee!