Cindy.Chen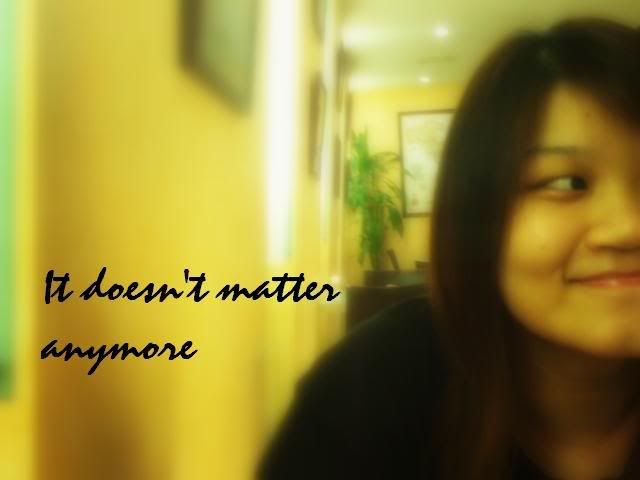 About ME


+25th Jan 1988.
+20 years old
+PSBAcademy.
+mhss.
+family.
+music.
+travel






Monday, October 30, 2006

hi all..

im getting lazier to blog.
im getting bored with Blogspot.
im thinking of either:-

1)delete my blog
2)delete my blog

looks like im left with no option.haha!

nah,seriously i cant bear to.look at the archives!its only been a year yet it seemed like alot of things has been happening.i thought of printing them all out and keep in my personal diary.LOL!but then again,there're just too many posts and pictures..so harya nvm.

life's been good.just dat exam is drawing near and ive yet to study,whats new?

anyway,today when i woke up,i was looking at my phone when it suddenly rang.it was esther,and she was crazy.

esse:HELLO!u wake up already?
me:yah,just woke up..
esse:huh?eh sorrie leh.
me:nvm lah..siao.what's up?
esse:oh no lah,have you read the newspaper?
me:huh?no..why?
esse:oh cus ah,got this story very touching!!
me:heh?=.="

and she started reading out the story.

she called me early in the morning(ok,actually not really in the morning..)just to read to me a story touching story.this girl seriously,leaves me speechless.=p

the other day,i bumped into Mr Karamjit while i was on the way home with a friend after sheena's house..

me:HELLO MR KARAMJIT!!
Mr K:hello tecksin!
me:...CINDY LAH!

he NEVER gets my name right ever since secondary school.NEVER.and when he does,he will empathsize on my surname not chen as in ch-en but chi-qian.you know,with the especially high tone.so it goes like 'cindy

CHI-QIAN'

.urgh,you get my drift.

okay,i think this post is kinda random.but well at least i update lah.hehee!aiight,i think i'd better hit the books now!if not im so gonna fail,flunk,flop the paper.CIAO!