Cindy.Chen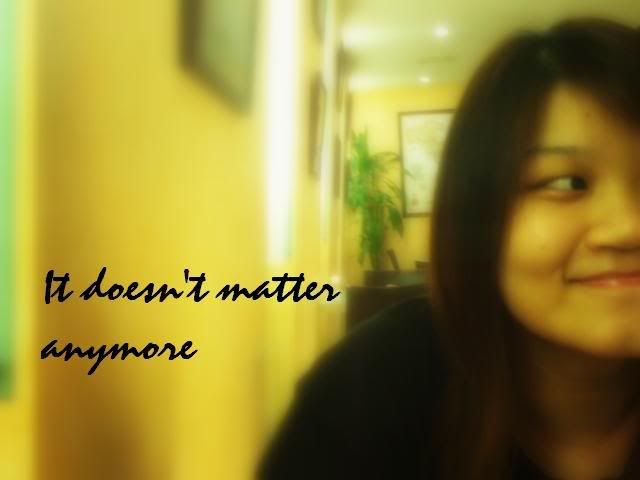 About ME


+25th Jan 1988.
+20 years old
+PSBAcademy.
+mhss.
+family.
+music.
+travel






Monday, October 16, 2006

i merely put 'OMG!HAPPY BELATED BIRTHDAY EDISON!!I LOVE YOU!!!WAHAHAHA' as my msn nick,and i got so many response..

1)'you think he can see meh?siao!'
2)'siao ah?'
3)'whatever'
4)'who edison?your bf?' (OH MAN,I LOVE THIS PERSON EVEN MORE!hahaah!)
5)'change your nick lah!'

...

what can i say?
ive been faithful all these years..cant you guys just accept it?!

ANYWAYS,
yesterday met up with my cousin after class.she went to undress the bandage on her finger just the other day and she showed it to me.one word,no,3 words..

DAMN BLOOOOOOOOOOOODY GROSS!!!!GROSS WITH A CAPTIAL G MAN!!!

i should have taken a picture of it and SHARE it with you guys but i decided not to.im not so bad can?then,it was kbox.i swear,it was the first and the last time im gonna go to the clementi's one.totally SUCKED.the system is oh-so-damn-bloody-eat-shit bad and yah,its just the system.hahaah.but dats bad enough already okay?oh,and the english songs are damn limited..all with the stupid videos made in i dont know which country.

before dat,we were in mac and one of the staff was giving out the balloons to the kids and guess what?she ALMOST gave me one!=.="my cousin was laughing/saying SOOO loudly,'dats how childish u looked',she made me feel embarrassed.eh,i should feel happy what.

damnit.

the irritating haze is irritating the shit out of me.my skin is terrible,terrible,TERRIBLEEEEEEE!!!!its like,touching sand paper.maybe even worse than dat.

just when will the haze go away?!arrrghhhh!
gonna meet ruiza tomorrow after WORK(argh!!),so im gonna go now!ciao!