Cindy.Chen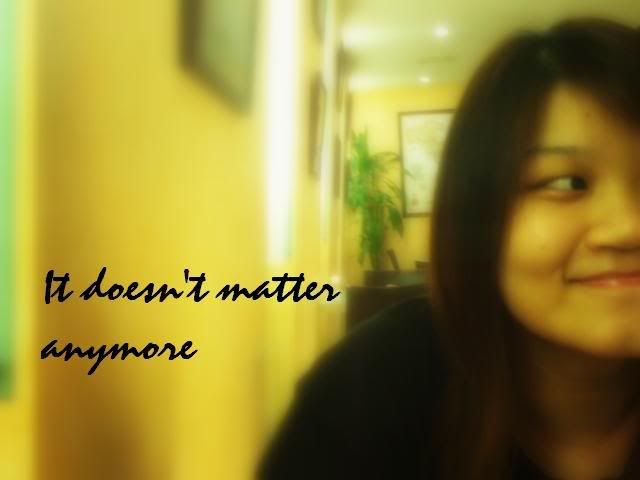 About ME


+25th Jan 1988.
+20 years old
+PSBAcademy.
+mhss.
+family.
+music.
+travel






Monday, October 23, 2006

ive been doing alot of house-visiting lately.all the festivals and the different occasions.hehee,i love it!

just came back home from a friend's birthday party.i left at 11 and yes,i reached home just 5 mins ago!the jam at Geylang is OMG.got stucked at the traffic for nearly an hour!when i got down the bus,i really felt like vomiting.

ANYWAYS,like i was saying,my friend's birthday party.it was held at her house and OMG!!I SWEAR,I SWEAR,I SWEAR HER HOUSE IS BLOOOOOOODDDDYYY HUGE WITH A CAPITAL H MAN!!!!!its the BIGGEST house ive ever been to.

dudes,just imagine.



- 2 Semi-D combined




- 14 bedrooms and mind you,all 14 bedrooms WITH TOILETS.so its equivalent to,yah,14 MASTER bedrooms.




- EACH room with a 32 inch plasma tv.




-2 bloody big balconies(which can really,really be built as swimming pools)




-2 friggin style Mercedes-Benz.S-class and SLK-class..(!!!!!!!)



have you fainted?
dont be kuku.

her guest room is already twice my bedroom!!but the greatest thing about her is that,shes really damn humble.or rather,too humble to be true.i seriously have no idea she was THIS RICH.=.="no airs,no show offs..just a very simple lady.very nice person!

i met alot of new people there too.all very nice and friendly!it was a great dinner i would say..although its rare to hear me saying dat especially with a group of people i barely know!but yup,they made me feel warmth.=)sorrie no pics becus i didnt bring along my camera.I SHOULD HAVE!!!

aiight,i think i'd better run now!house visiting tomorrow!;)

Selamat Hari Raya all!