Cindy.Chen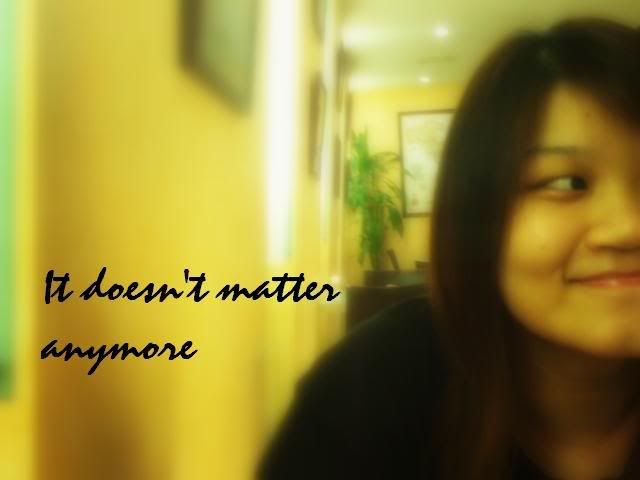 About ME


+25th Jan 1988.
+20 years old
+PSBAcademy.
+mhss.
+family.
+music.
+travel






Thursday, November 30, 2006

i hope and pray and pray and hope dat someday,hopefully

SOON

,someone will invent some sort of a 'Lizardcide' or something to perish ALL THE LIZARDS!!I SWEAR I WILL KOWTOW TO THAT INVENTORHERO!

Lizards are just digusting lah!I CANT AND WILL NEVER STAND THEM!
just where the hell did they come from?can someone tell me?

i can just go on and on about how much i hate them but i think i'd better not.in case,*CHOY* they find their way in to my room just like how the other time it happened to me.*choychoychoychoychoy*

by the way,guess what?!I PASSED MY EXAM!!!!!!!YAY!!!im just so damn bloody glad dat i dont have to retake the paper again!phew!
lesson was pretty good today!i just found out 2 of my gurlfriends' birthdays are so near to mine!ok,so whats the big deal?erm,nothing.

yesterday night,or rather morning,i couldnt get to sleep!i slept at 5am ok!grrrr...!!i was thinking to myself,you know how some people who will show others how they looked like in the past(probably choosing the worst photo ever),commenting how they looked from head to toe,from their worst hairdos to their bad dressing and the list can go on.and they will take their pictures,then and now,and make a contrast of it thinking 'what the hell was i thinking when i wore that outfit?'and such but they never feel embarrassed.instead,they will rather proud of it even to the extent of mocking themselves.

i mean,at dat point of time(your proclaimed worst stage),you were probably thinking you looked best.and say,10 years down the road when you looked at your pictures again,you will think dat you look way better now.and then you start making comparison again.

i was thinking,confidence boost maybe?

it is so interesting to see there are so many different people in the world but their reaction to dat one thing is so similiar.you know what im saying?

hahaa,lame entry i know.ciao!