Cindy.Chen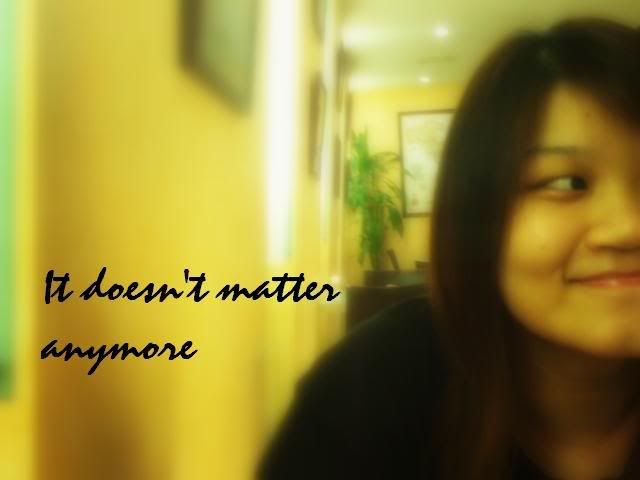 About ME


+25th Jan 1988.
+20 years old
+PSBAcademy.
+mhss.
+family.
+music.
+travel






Monday, November 13, 2006

im just so glad Britney's finally decided to dump K-Fag Fed.
now,its not any of my business here but im just so glad!=)D

how does it feel to be cycling again?

SUPER SHIOK!!

been so busy with work and school for the past few months ive neglacted my bike for a long long time.and yes,it turned rusty!now,i have all the time in the world..im gonna use you very often man!

we cycled all the way to East Coast Park,damn nice.although it was friggin tiring becus my pedal wasnt really working,the chain was too rusty and my tyres were..fine,i admit,my bicycle sucks.there were so many people there.i think next time i shall try rollar-blading.friggin cool!

so anyway,went over to the jetty and sat down.very windy;very nice place to be emo.hahaa!yup,basically dat was all but it was an accomplished day for me!;))

if you havent realise,ive quit my job already.yes again.at least this time i worked longer than the other 2 times.but anyway,for the first time i kinda regretted on my decision.i told my supervisor just the day before(which was thursday)dat i was gonna quit the next day.she was so shocked lah.

her:huh!?why?!why suddenly?!
me:huh?erh..cus i found another job.
her:but so sudden!
me:yea,sorry..

my heart ached when i saw her reaction.i dont know why.i just felt so guilty and sad.maybe becus well,technically,i havent exactly found a job(well,if working for ur dad counts..)but the reason i wanna quit is becus the work which they gave me doesnt require any much brain cells.its quite dead.i mean of course its easier and stuff,but i dont really see whats so 'helpful' from it even if say im gonna have 10 years of experience doing dat.in other words,i see no future in it.

another thing,ive said plenty of times.the pay.its really,i can never say enough,pathetic.im proud to say the last month,October,i only took a day off from work due to my examination.yet,when i received the payroll a few days ago,my pay was still unbelievably low.i dont understand whats the CENTS about.$***.16.

like,wth right?!

so basically,those are the 2 factors which really made me decide on my decision.

before i went to bed on the day when i told my supervisor i was quitting,i was actually thinking if i should just take back the resignation form.yah,dat was how much i was regretting.but then again,i'll lose my value lah.i mean,seriously what.lol okay,i was kidding.hehee!i was battling myself with my own mind games.

olrite,let me continue about my last day.

i went to work as usual and some of my colleagues,ok,it sounds pretty weird becus they're old enough to be my mom.so anyway,news travels fast.they were like asking me quite alot of questions.

was it my last day;why am i quitting;am i still gonna study.blah etc.

and this came the part where i became an internal emotional wreck.i distributed chocolates and candies to them to show my little appreciation to them becus they have been rather nice to me.yea so now you're gonna remind me how i used to curse dat burping machine but seriously,they are very nice people.

i didnt know im such an emotional basketcase.i was fighting back the tears when they wished me well and all the best for my future and all.i could feel my tears welling up my eyes dat one blink and i know it'll be a running tap.the feeling was undescribable.i never knew ive grown to be so attached to dat place and the people there.i just never knew.i thought i'd be some cool kid;come and go with no strings attached,but i was so wrong.

why am i regretting when its already been decided.i can foresee im gonna feel lost tomorrow.even now i can feel it biting me.

but as for now,my ass hurts and i think im gonna sleep.