Cindy.Chen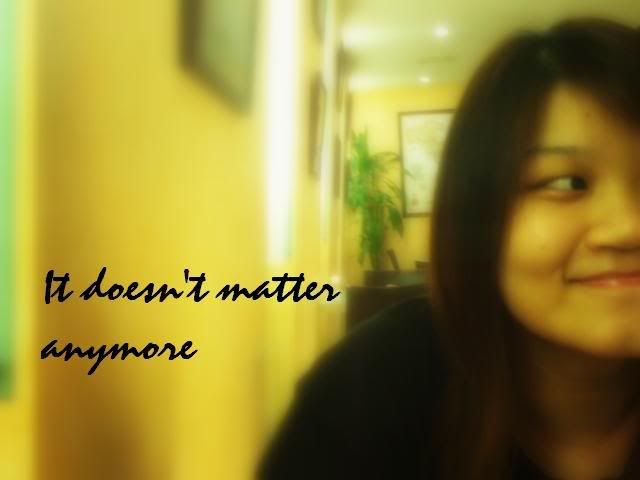 About ME


+25th Jan 1988.
+20 years old
+PSBAcademy.
+mhss.
+family.
+music.
+travel






Wednesday, November 29, 2006

the weather and the project are the 2 main factors dat are making me a more homely person..

...
.....
.......

OH!and of cus,$kaching$.im jobless yo?so..heh.
but you guys are always welcome to my house yea?HAHAHAH!

anyway,yea its bored staying at home but all thanks to the weather,going out seems to be very troublesome too.becus..



1)i dont bring umbrellas!and i always get scolded for that from my parents.




2)and becus i dont bring umbrellas,an ALL-SHELTERED place is a MUST.




3)its either dat or no going out.



yah.and trust me,people cant stand me for that.dont blame me,really no choice what!hohooo~

so im glued to the computer and teevee for like 24/7.even my father was like
'i see you whole day do nuthin but EAT,SLEEP,WATCH TV!no school?and please lah,go out and [sai tai yang].'(sunkiss,in short)

the problem is,there's no sun for me to kiss.as in,literally.=/so its not like i wanna stay indoor for like,forever.like,not my fault lor.
HAHAHAHAH!like,yah.

like,i realised my sentences always have alot of like,like.damnit.

ok,dat was quite bullshit.fine,it IS bullshit.

and seriously,i think im suffering from insomnia AGAIN.whenever im out of job,out of school,whatever.the problem keeps getting back to me.

its not as if my dark eye circles isnt obvious enough!=====.======"


i'll usually hit the sack at about 3.30am and wakes up at 10am?MAN OH MAN!i just dont know why.it always seems like theres something at the back of my mind dat just keep making me feel..unease.its damn annoying i tell you!

rrrghhhh!you see,i wanted to type out a long entry but nuthin's coming out.its time to start on the project!!!CIAO.