Cindy.Chen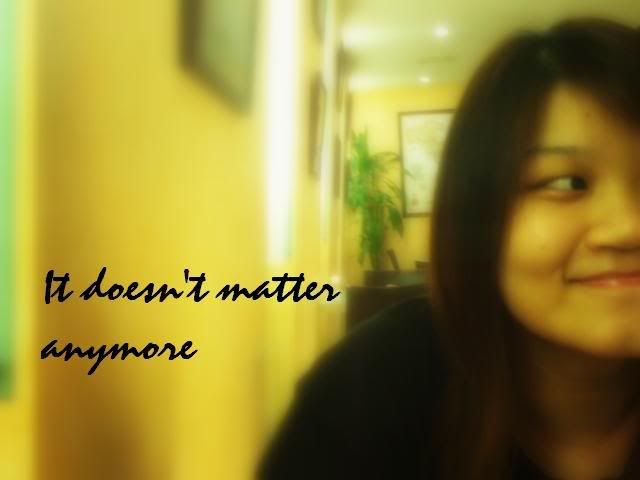 About ME


+25th Jan 1988.
+20 years old
+PSBAcademy.
+mhss.
+family.
+music.
+travel






Sunday, December 24, 2006

finally done with cleaning up the whole place!life without 'aminah' is really..... .... ...ok,im not acting like a spoilt brat here but seriously,i believe they will do a much better job.i can predict all the ants are gonna conquer the whole place tomorrow.lol!

anyway,yup.so i had the 'small gathering' at my place.and you know what?i seriously think im a very bad host.you know how some people can be really good at hosting such things and making everyone feel comfortable?but i can never do that.

my cousin came in the morning to help me out.we went to bugis to buy all the stuff becus we were afraid it might not be enough(but again,like my birthday,its MORE THAN enough.)but i really have to thank her for being there becus if she wasnt,i would have just kept buying.and of cus,for the decorations and food.its really nice to have a cousin whos so close to you!

the problem with me is that,im always scared that the things are not enough.get what i mean?so i tend to buy things which are MORE THAN enough and wasting unneccessary money.but hah,im always wasting unneccessary money anyway.im trying to change,please please.

so anyway,came home;done up the decoration and waited for the rest to come.then came a group of teenagers from a nearby church;caroled and after which,we took a group picture with them.i dont have it now cus i didnt use my camera.by the way,i know them so its not that i anyhow let strangers in ok?

after most of them left,i realised we left alot of food UNTOUCHED.ohmegod,i almost died.i think i should really stop behaving like a real singaporean.just normal singaporean will do.

i need a job,badly!


me and miao!=)


group pic.spot the different couples?