Cindy.Chen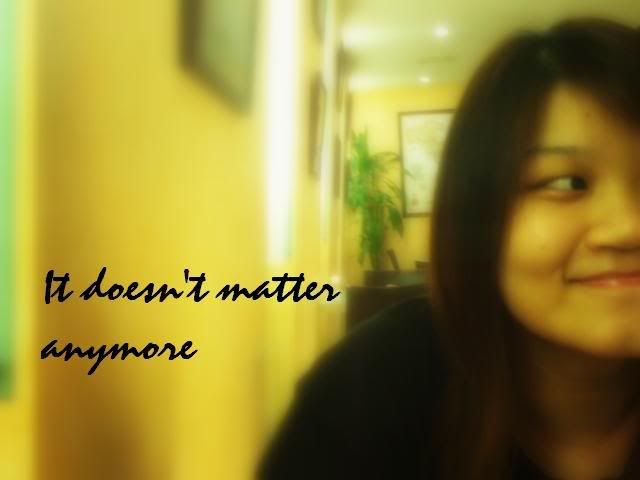 About ME


+25th Jan 1988.
+20 years old
+PSBAcademy.
+mhss.
+family.
+music.
+travel






Saturday, December 16, 2006

lunch cum dinner in ms soo's house was not too bad.we were shocked to see so many people,mainly from her church and her relatives.but all was good=)

aiight,i shall let the pictures do the talking then.so tired!


christy didnt wanna take picture with ms soo.LOL,damn mean.


the few of us at the pool side.

Piccas from the other day!


at cine's cafe.i only liked the calamari rings.


donkeying around;


hmm,can tell ruiza has already mastered the highest level of acting cute.


and then we do budget stuff like,taking pics in a neoprint machine with our own camera.i enjoyed it though!


UNTIL........


this happened!it was our 'last moment' with the cam by the way.cus after like 1 sec,sam dropped it and had to send it for repair.WAHAHAHAHAH!!this is what i call,CLASSIC!


oh yah,acting that is.


the food at crystal jade.it really doesnt taste as nice as it looks though except maybe for the sweet and sour pork!


i finished 3/4 of the plate of sweet and sour pork.


the aftermath.


this is the 'Julian Hee Smile.'okay,more like shock.


then come the infamous 'Cindy Chen Smile.'WHAT!


the desserts!


i tell you,this is THE BEST THING ON EARTH!!SUPER NICE!!!


then came the bill..heart-piak.


YUCKSSSS!!!!!you know what?i just realised i get goosebumps all over when i see things like dat!!I DONT KNOW WHY!!!and holes,omg.AHHHH!!am i normal?ok,im having goosebumps while typing this.

THE SALON;the place where i wasted 4 hours of my life.
this is how you cut a concave.the start,the process,the almost finish but not yet finished and the results on someone who has been waiting patiently for 4 hours.
first,you tie your hair:


then,


cut it(this is a proof)


do a center-parting at the back and..


duh?get on with it lah!lol


so this will be the final product.but if you're still not satisfy with it,you may..


heartlessly allow the other person to wait for you for another 2 hours to highlight your hair.like what this ms heah is doing.still got the cheek to smile.


by the time you finished doing your oh-4-hours hairdo,your friend would probably go crazy.


then,your poor friend will still have to force a smile to,smile.
(okay i better correct that.i NEVER force a smile.)

the end.
GBM.