Cindy.Chen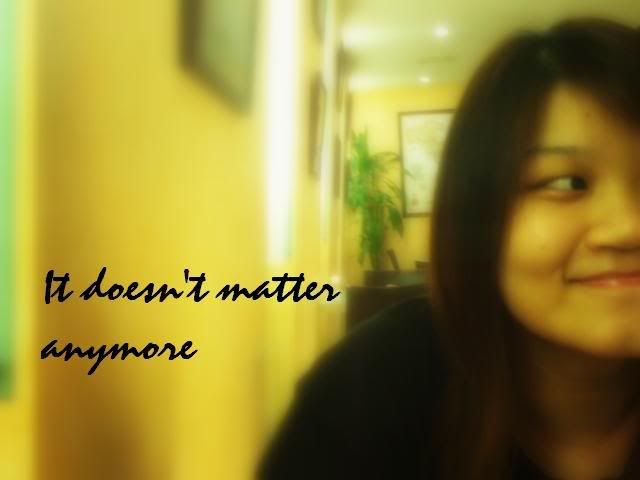 About ME


+25th Jan 1988.
+20 years old
+PSBAcademy.
+mhss.
+family.
+music.
+travel






Friday, December 22, 2006

sometimes it does suck to know where you stand in people's eyes.whenever i make the first move,it always backfires.making it seem as though im some desperate kid trying so damn hard to get people's attention or even,a deprived loser who needs to be with thy friends for like 24/7.

im not afraid to say that out loud becus trust me,im none of that.

those who know me,well enough,will know that i dont even call people that often much less asking them out.and when i do,its probably becus i feel theres a need to do some catching-up with each other's lives.

I WANT ALL OF YOU TO KNOW THAT im perfectly fine with it if you dont welcome that idea.you dont need to entertain me or vice versa.but just dont make it look as though you're the superior one and i have to bow to you.becus the truth is,i dont.im living my life and i love the way im living it.im totally cool with the way i look at things.i dont feel angry but im just so sick of it.in fact,i dont get angry that often or even feel disappointed in anyone anymore.

without any expections,how can you feel the disappointment?
becus with all that anger and the different mixtures of feeling inside you,all you can see is nothing but the ugly side of people.

everyone would probably come to a stage whereby you feel being alone is actually better than being with friends.you get to think more rationally,you get to do things your way..you get to know your real-self.

im a strong believer of 'huh alone?NO!!'but guess what?i feel that ive grown.grown so much that i feel being alone isnt that great a deal afterall.you came to this world alone,you will leave this world alone too.im not even talking about twins.a twin is an individual,they will still have to wait for a few minutes for their twin to be delivered from their mother's womb.

im not trying to sound philosophical or what sort.its just some food for thoughts.
so sick and tired of it.