Cindy.Chen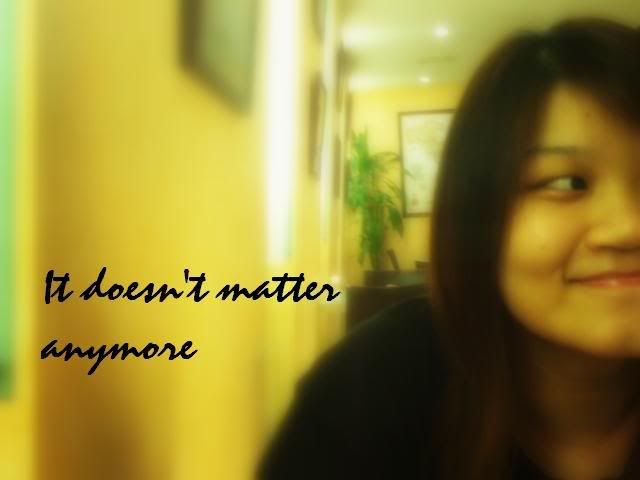 About ME


+25th Jan 1988.
+20 years old
+PSBAcademy.
+mhss.
+family.
+music.
+travel






Wednesday, January 24, 2007

Elena got to see Julian Hee,Jeanette Aw and Shawn Chen on her 2nd day of work.As for me,I think I'm slightly luckier than her.I got to see Huang Biren on my first day of work when I was in the toilet.She's really damn tall and okay,she looks pretty average without her makeup.And just nice,she was filming at the salon next to my shop.

Then I saw Bernice Wong(I think that's her name),the ex-miss singapore.DAMN TALL TOO.HOT!

And today,I saw Melody Chen.Normal,but okay,pretty.

Yeah,I don't really go ga-ga over local celebs(okay maybe except for Julian Hee..Elvin Ng..maybe Pierre Png and maybe,erm,that's all I think)but GENERALLY,I don't.

Anyway,work's been pretty tiring and boring at the same time.I've rested for far too long that's why I can't find any excuse to,you know,make myself feel pitiful.Yah,my legs are aching like nobody's business,and my body too but it can't be compared with WinterTime.That one is,wah lao,xiong man.At least this one is more bearable.And the people are not too bad though I don't really like the lady boss since the first time I saw her.I just have to 'eng siew'.No choice.

HA,HA.

Then today,there was this guy who came over to collect his pay and we chatted for awhile.

him:hello,you work here for very long already?
me:nope,this is my 2nd day.
him:oh,i quit on the 2nd day.

=.="
How encouraging.

And his pay ah,damn poor thing,only 15 bucks.Well,at least he made the right choice.Good on him!

Right,I've got quite alot of things to update but I'm dead beat now!I have been sleeping at 10pm sharp everyday.COOL MAN!