Cindy.Chen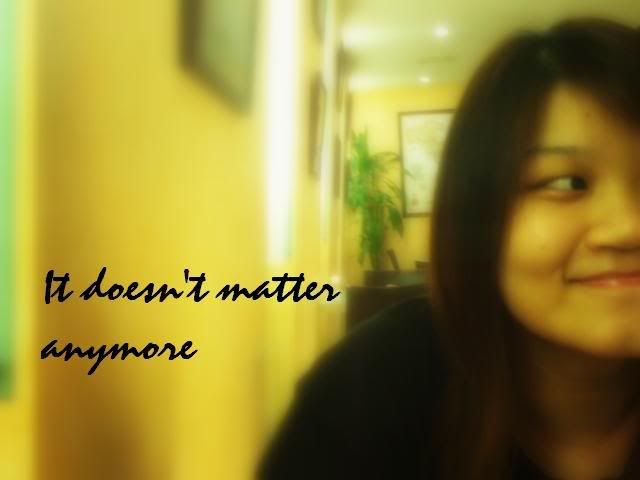 About ME


+25th Jan 1988.
+20 years old
+PSBAcademy.
+mhss.
+family.
+music.
+travel






Wednesday, January 03, 2007

Harlo ha 2007!!

New year,new week,new start.

THE OC FEVER IS BACK!!!!!!!WOOOHOOOO!!!!

My patience is wearing thin.Youtube just refuses to load my OC and it's irritating the shit out of me!I think is because of the earthquake in Taiwan,causing all the connection problems.RRRRGGGHHH!!I need/must/have to watch THE OC!I've been missing it for like,918273645 years I can't wait anymore!Not any longer,I might die.Ok choy,new year.

And by the time Derrick volunteers himself(which is very unlikely),I'll have to wait for another 918273645 years.I can't!

Youtube,STOP TORMENTING ME,please!

If you realised,I'm trying to type a proper entry with proper letters and punctuation but its really kind of hard.im so used to typing like this.the reason im doing that is becus i realised i like to read blogs with proper entry like there're no short forms whatsoever.

I can't believe there are still people typing like thiish.Damn retarded.

'This',is a 4-letter word but cheena people went through the unneccesary trouble to create a 6-letter word.Imagine reading a blog with all those 'greatly-created-words'.

Anyway,I bumped into Esther Naomi today.She has been M.I.A for so darn long,finally get to see her again.We didn't manage to talk because we were quite far away from each other in the MRT but she blew kisses to me.LOL!

Went town and bumped into quite a few people too.And I shall announce,I'm officially broke with $1.95 in my bank and NO SAVINGS in my piggybank.Thank You!

Finding job sucks.
Working sucks,School too.

Damn,it's only the 2nd day of 2007 and I'm already complaining.