Cindy.Chen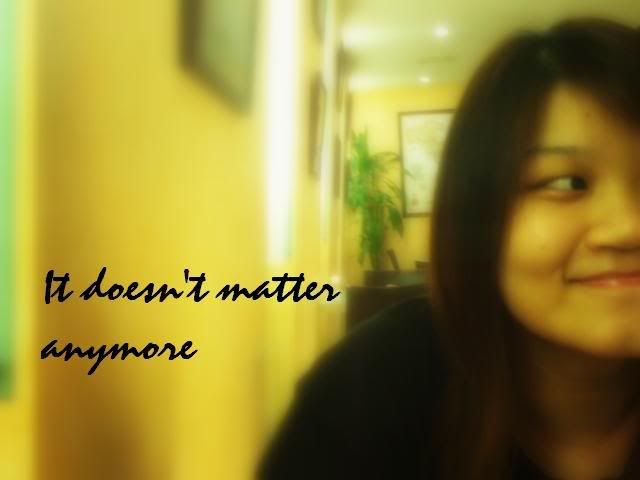 About ME


+25th Jan 1988.
+20 years old
+PSBAcademy.
+mhss.
+family.
+music.
+travel






Thursday, January 04, 2007

I just finished watching Extreme Makeover and I was startled by how huge the transformation was on the contestants.Then,I chatted with Elena on MSN on how make-ups are really important for girls.It's true.

My dad once told me,the reason women put on make-up does not neccessarily means Vanity.It could mean they respect themselves and the people they are or are gonna be interacting with.

Take say,a posh restaurant.Why do they have a dress code?Why do they want people to dress formally?

When I say makeup,I'm not even talking about thick make-ups.Probably some light touch-up without too much hassle.I've always thought that putting makeups are just pure vanity,my dad's theory has never came across my mind.But somehow,it got me thinking after that.

And when I hear boys going like,

'I don't like girls who put make-ups',i just feel like bitch-slapping them.

It's THICK make-ups.I don't think they wanna see how their hot celebs would look like without make-ups.

And I think,seriously,putting make-ups are so time consuming if any girls were to choose,they would rather not go through the trouble.

My elder sis would spend about an hour or so to do her make-ups and you wouldn't want to know how long she takes to bathe.So if someone's meeting her at 3pm,she will have to start getting ready by 12.YAH,THAT LONG.and we will always fight to see who goes to the bathroom first.

But of course,if its a guy she's meeting,he would probably be more than willing to wait because really,she look darn different.I wouldn't say she's like drop-dead gorgeous(cus she isn't)but its just a matter of Glam V.S Unglam.LOL!I swear I will kanna slaughter like a pig if she ever stumble into this blog.I will die a miserable death.

Speaking of which,I just can't wait for CNY!!I know it's gonna be another two months or so,but i can't wait!$KACHING$

Lastly,is it just me or do they really look alike?I realised my sister's bf looked like Dominic Purcell from Prison Break.




Conclusion: Maybe its just the hair head.