Cindy.Chen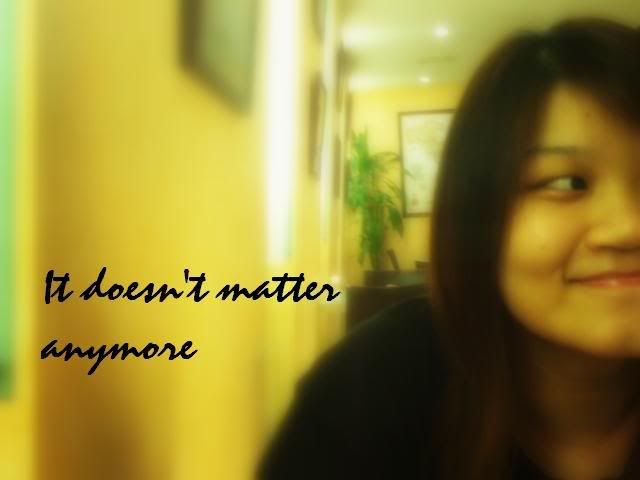 About ME


+25th Jan 1988.
+20 years old
+PSBAcademy.
+mhss.
+family.
+music.
+travel






Wednesday, January 10, 2007

So I'm gonna retake my marketing paper,this time I'm damn sure.At least I tried to fill-in-the-blanks because my lecturer doesn't like people to leave the paper blank.The exam started at 2pm,Sheena left at 2.30pm ON THE DOT(becus we were only allowed to leave after half an hour of the paper).I told you she was determined to fail already.

After the paper,as usual,everyone gathered around and discuss/compare the answers and seriously,I don't like!Imagine when your answers are all so damn different from the rest,and you don't know if you're right or wrong,it just doesn't help one bit.So usually after a paper,I will answer the usual question 'so how?' and just keep quiet.

Oh,and did I mention our new campus kinda suck?

It's so damn 'typical secondary school' kind of building.Not like Monk's hill,because I seriously think my secondary school is so much better than this and its way off comparison.And it felt ulu because it has been vacant for so damn long after Delta Secondary School,I think.

And the place is HOT!Hot as in weather-hot not hot-hot.
NO LIFT.OMG,I CAN'T BELIEVE IT!EVEN PRIMARY SCHOOLS HAVE LIFT LAH,DAMN!
No aircon in the toilet.
(LOL!ok,but that is because the previous campus provides aircon in the toilet but this doesn't.)

The list goes on...

I don't want to imagine myself studying there for at least another 2 years or so,it kills.