Cindy.Chen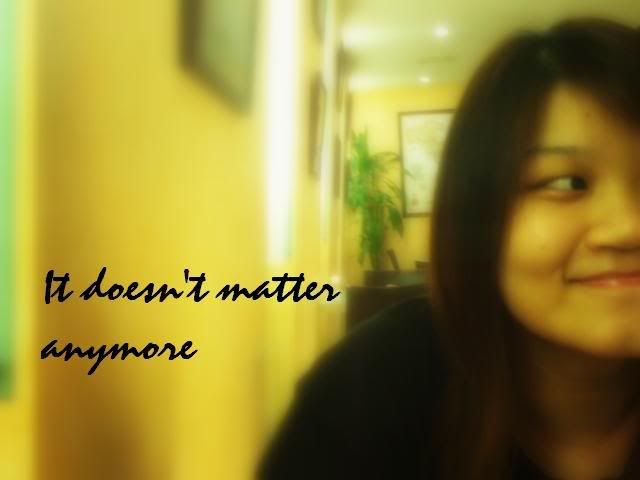 About ME


+25th Jan 1988.
+20 years old
+PSBAcademy.
+mhss.
+family.
+music.
+travel






Saturday, January 13, 2007

What an interesting bus ride today!

I took a cab down for a job interview because it was raining so heavily I could hardly see the building just opposite my place and also,I didn't know where is the place.So fine,I was quite angry with myself because the interview only took less than 10 mins.Usually,when I take a cab down to somewhere I will at least spend an hour or two at that place so as to convince myself it's worth the cab fare.Yah,I'm that weird.

So of course I got so pissed with myself,I decided to punish myself by walking all the way down to..wherever my legs take me to.

I ended up at People's Park bus stop and decided to take a bus back to my grandma's place.And since I've got so much time to spare,I skipped a bus and damn,it got me waiting for another 25 mins!I was even more pissed!So sway.

Then I got up the bus and there was this erm,I don't know if it's a butch or a guy because the voice like not fully-developed yet,but I'm sure it's some poly student.Ok,doesn't make sense.But I think it's a guy lah although the voice really cannot make it.

I don't know exactly how it happened though I was at the upfront seat(which means I could have witnessed everything if I'm that kaypo,which means I'm not lah cus I don't know how it happened).LOL,ok sorry,I'm full of shit..I really suffering from constipation leh these few days!OK SORRY,BACK TO THE POINT.

So after a few stops I heard the student shouting like

Student:You better don't make me fight with you I tell you!That day I just called up the (don't know what),you better give me back my ezlink before I call the police.You check the expiry date lah!
Bus Driver:[said something]
Student:I want to get out of the bus now!You just *F-ing*give me back my ezlink!You think I scared of you ah!Go Cantonment lah!
Bus Driver:[said something again]

the reason is because I couldn't hear what the bus driver was saying.All I could hear was the student's shouting when I'm actually listening to my mp3.

So the bus driver stopped the bus for awhile to call the headquarters or something and initially,I couldn't be bothered because I was listening to my mp3 until this old woman sitting beside me started asking me,in Hokkien,

Old woman:Eh what happened ah?how come the bus not moving?Qin Gua leh!(very cold leh!)
me:oh bo lah(continue using my 'SUPERB' hokkien to explain to her)

SERIOUSLY,I DOUBT SHE UNDERSTOOD WHAT I WAS TRYING TO SAY.YOU KNOW WHY?SHE GAVE ME THAT SUPER BLUR FACE AFTER I EXPLAINED TO HER AND CONTINUED ASKING THE OTHER PERSON BESIDE HER THE SAME QUESTION SHE ASKED ME.
=( I swear I will brush up on my Hokkien!

Student:Eh!I thought you say you want to call your headquarters?Call lah!
Bus Driver:I call already,they didn't pick up.
Student:SO?!If your headquarters give me back my ezlink then how?!You pay me $50 lah!
Bus Driver:Ok,you follow me back there.
Student:I follow you for what!?I don't need go to school ah!?Stupid idioit Bangala,go F your mother lah!knnbccb!

Yes,all that,loud and clear in the bus.

Old woman:Haiyo!Char bo gina kong ji kuan ming kia(haiyo!how can a girl say this kind of thing!)
me:Eh auntie,yi si da bo.(eh auntie,it's a guy.)

HAHAAHAH!Then that poor old lady gave me that super shocked face I can't help but kept urm-chio-ing.

Apparently,the bus driver merely wanted the student to pay a pathetic sum of 90 cents because well,something's wrong with the student pass.But the student refused so the bus driver confiscated the card.

That's all.

Such a trivial matter.Just pay that 90 cents,bus driver give you back the card,the end.Must go through all the disgracing act meh?So damn unneccessary.

Yah,maybe that student was having a bad day,or the bus driver.Maybe.But anyways,they indeed went through a bad day eventually!

Then soon after the student alighted,this 2 indian ladies went up the bus and started quarrelling.They were arguing in their language but as from what I see because both of them were carrying a few bags of stuff and this lady was shouting at the other one probably telling her 'I carry more than you so don't complain' and stuff.

Come on,actions speak louder than words.

She carried both the bags,put it down,and said 'don't complain'.

Now tell me,isn't it interesting?