Cindy.Chen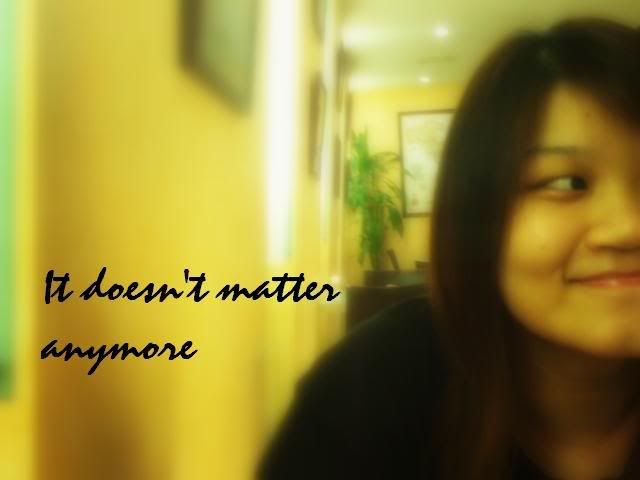 About ME


+25th Jan 1988.
+20 years old
+PSBAcademy.
+mhss.
+family.
+music.
+travel






Wednesday, February 21, 2007

These few days has been great!Tiring but yah,great!

Eating,coming home in the wee hours,going out(acting like a tourist) and just spending time together with my family.Plenty of photos to be uploaded but i'm just far too lazy.Probably when i have the mood lah,okay?You can't say no.

CNY Day 1.
Went to catch a movie with my cousins after all the visitings.I swear it's been soooooooooooooooo long since all of us went to watch a movie together,10 of us.It just feels..more than great!Before the movie,we went over to the arcade at TBP and played the different games.It was ultra FUN!!!We were like screaming and laughing like nobody's business(as if the arcade was ours),it felt just like the good'ol days!AHHH,I MISS THAT!
We watched Ghost Rider and it was not too bad,I'll probably give it a 3/5 but because the guy who acted as the young nicholas cage is so damn handsome,I shall give it a 4/5.LOL!!awww~

CNY Day 2.
We were supposed to wake up in the morning to go Sentosa but we ended up going only in the afternoon.It rained so we didn't managed to go to the beach but oh man,the place was flooded with Indians.They damn selfish can?We were in the Underwater World and this whole bunch of Indian men just stood infront of the aquarium leaving the people behind with no choice but to 'skipped' that aquarium and U-turn back to another exit.Never see fish before meh?Must stand there so long.So after that,we were all sticky and dirty and wanted to get a cab home but there wasn't any.We had to walk all the way back to the main entrace to take the Sentosa Express train.The jungle is like never-ending.We probably spent like 1/2 hr walking back?So we went home;changed and went for dinner with my relatives&cousins at Marina South for some seafood.Yah,i was supposed to be allergic to seafood but guess what?!I WAS SO DAMN FINE YESTERDAY!NO ALLERGY,phew~the chilli crab is like,fifty thumbs up!The food was good man!
We finished eating at about 11.30pm and then we went for some bowling session!I managed to strike 2 times!Cool stuff hey!ANY CHALLENGER?!HAHAAHAH!Kidding dude!Played for awhile and went home at about 3am.

CNY Day 3.


WORK.


There were countable souls.But it was okay because we get to relax since there isn't any customers or goods to check so yeah,my colleague and myself were browsing the net and chit-chatting all the way,and getting paid for that.It's only for 1 day lah.Then,it was dinner at some Italian Restaurant at Esplanade and we went to sit the Boat Taxi for,I've no idea why.Wanted to join my sis and beppe to The Clinic for a drink but decided to skip it since i've to work tomorrow.

Anyway,my dad's gonna re-employ another maid soon!Goodness,i used to think we can live without a maid.But now,i seriously doubt it.Tsktsk,this is bad.

Aiight,gonna ciao now!