Cindy.Chen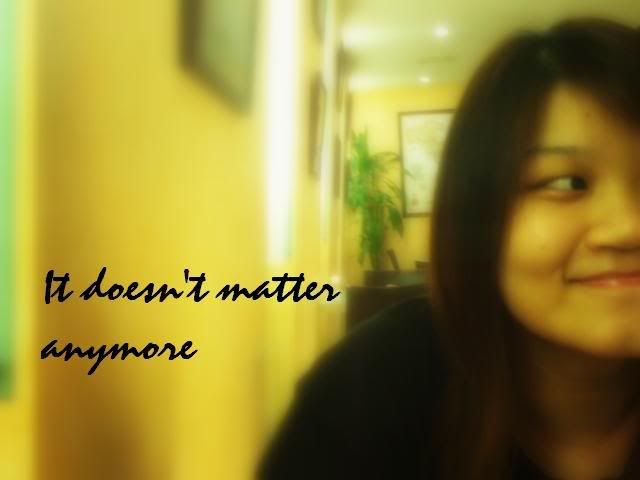 About ME


+25th Jan 1988.
+20 years old
+PSBAcademy.
+mhss.
+family.
+music.
+travel






Sunday, February 04, 2007

This job is killing me softly.

My back has been aching like CRAPPPPPPPPP!!!!I really feel like chopping off my entire arm!It really ached so badly I might die anytime.

And,
this job = free gym

Every other day,we'll have to carry this and that,walk up and down,climb high and low so yah,we really don't need to go gym at all.Just give me a few more months and I shall show you my newly-formed muscles.

But,the worst thing is,since I usually skipped breakfast and lunch,I tend to binge on dinner.And I mean BINGE.The other day,I ate a 12-inch subway sandwich plus 4 small packets of I don't know what crackers because I just grabbed whatever I can see on the table.WAH LAO,I seldom eat 12-inch subway sandwich lah!PLUS I can still eat the crackers,it's really damn bad for health man.No,not just the weight issue alone but because I had gastric flu before,so the chances of recurrence is pretty damn high.Oh shit,I'll

NEVER EVER EVER EVER

want to go through it again!!Might as well kill me.

Dang!I'll be doing opening tomorrow,ALONE!OHMEGOD,how am I gonna survive through the day?!It's so damn boring because there isn't alot of customer lately.hurhur=( okay,I think I'd better go now!

GOT TO WAKE UP EARLY ON A SUNDAY MORNING,HOW BLOODY NICE?!

Anyways,these are some outdated piccas from the other day(s).



who's the man!?


the people who came over;)

this year birthday quite budget.no cake,so just make do candles=(


artistic leh


ruiza wanted to do this,not me.


esther love this pic..cus she look nice in it?


yours truly!


hahah!quite budget hor?=p