Cindy.Chen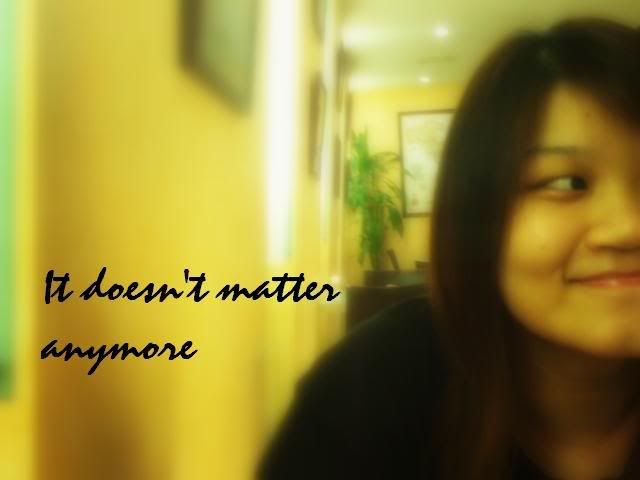 About ME


+25th Jan 1988.
+20 years old
+PSBAcademy.
+mhss.
+family.
+music.
+travel






Friday, February 16, 2007

Today,I went for a major shopping spree for my CNY clothes,

ALONE

.OHMEGOD,I never knew shopping alone would be THIS COOL.I swear I'm gonna go shopping alone from now on.BUT trust me,other than shopping,there seriously is nothing cool about being alone.

It's feels so good to be carefree,like you don't have to worry about other people waiting for you and stuff.You can just take your own sweet time and browse around,wahhh I love it man!

Yah,I did mention about MAJOR shopping spree right?Guess what?I spent more than 300 bucks.=.="

'XUETE!'

A quarter of it was from my pay but well,I can already predict the next war is coming up real soon!So,stay tune!;p

Anyway,of course I didn't spend the whole day alone.Met up with my cousin for dinner and continued to hunt for things.I seriously hate people who delibrately avoid me.It's like when I message them,they don't reply and when I call,they don't pick up.Then probably till the end of the day,they just send a 'oh sorry,my phone was on silent mode' and then that's that.

Wah lao,please lah.Find a better excuse can?

Or even worse,don't even bother to call/msg back.Bloody hell,feel like bitch-slapping these people.My blood pressure always goes up to another level after trying to reach them.I think I shall CHOOSE who to call/msg from now on.Tell me I suck.

Yay,2 more days and my sis will be back and 3 more days to recoup all my losses!HAHAAHA,I can't wait!