Cindy.Chen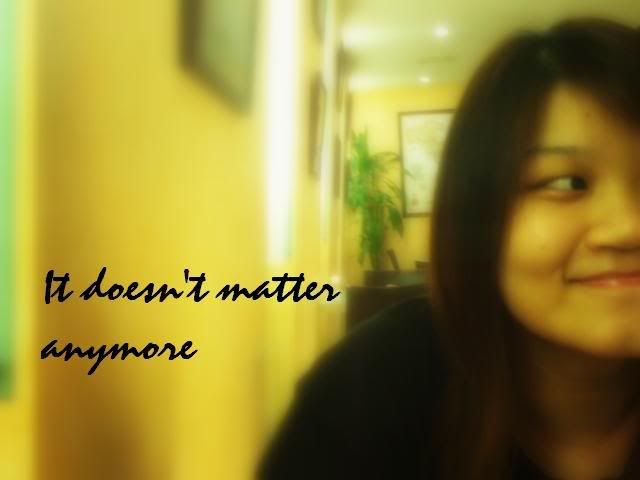 About ME


+25th Jan 1988.
+20 years old
+PSBAcademy.
+mhss.
+family.
+music.
+travel


Thursday, April 12, 2007
BLOODY HELL!!I TYPED SUCH A LONG ENTRY AND IT'S GONE?!!SHIT!!!!
Okay,so i'm in the library now.
My computer is down and my dad decided to lock his so,poor me,can't even use the computer in the comfort of my own home.But what the hell,the library is like so shiok lah!The chair so comfortable,the table so big and the connection so fast!One word,SHIOK!
Anyway,Kaijia came down to meet me after work for dinner yesterday and also,helped to clear my doubts on accounts.I REALLY UNDERSTAND KAIJIA!Thanks by the way!Oh,i think people just love to see me in my shocked face.I was on the phone with Kaijia when i realised her voice sounded nearer and nearer and taadah,she was right infront of me.Luckily i'm not suffering from some heart diseases,if not i'd be dead for 2 times,by now.
WAHHHHH how come i didn't know library got hot guys huh!?!?!!?!
Okay,i'm gonna moodswing now.
They asked me if i can work tomorrow because they need people.I gave up my off day the other day and now i have to give up another one again.I think i'm gonna be jian and say yes because i need money.DAMNIT,i don't wanna be so low.But i have to.Okay,i'm smiling to myself now,what an idiot.
Alrite,i think i'd better go now.TO WORK.Wah lao,usually when i say that sentence i'd be going to be bed or watch tv lor.But now,TO WORK.
THREE words,
HOW NOT SHIOK.