Cindy.Chen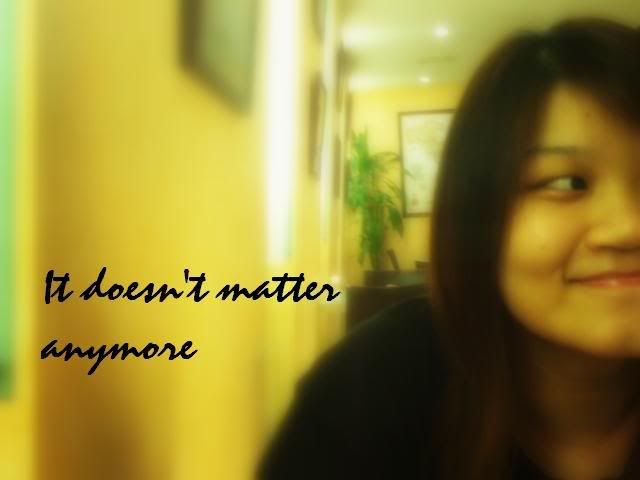 About ME


+25th Jan 1988.
+20 years old
+PSBAcademy.
+mhss.
+family.
+music.
+travel






Friday, April 20, 2007

I realised Esther loves to surprise me!Be it at work or even at my comfort zone,home that is.And it's really dangerous because anytime she'll just popped by and catches your most unglam moment.Which is what she did just 5 mins ago.

I was only into 15 mins of my sleep and my maid came in,

'cindy,got one man and one woman looking for you.'

Seriously,at the back of my head i don't know why but i actually thought they might be loansharks or something.I mean,not that i borrowed money from one in the first place,but i don't know.Probably i got woken up suddenly i can't even control what i'm thinking.LOL,maybe.

So i went to the door and they(Esther and her bf)hid at the side of the front door.I almost couldn't see them if not for Esther's protruding tummy.

HAHAAHAHAAH!KIDDING LAH BABE!It's not that bad lah.LOL!Okay,i'm lying.It's bad.It's ok man,CHILL!Welcome to my club!=)
*WITH ARMS WIDE OPEN!!*=D

We chat for alittle while,15 mins to be precised,and Esther already kept looking at the clock.It was dinner time for her,French cuisine awaiting for her grand arrival.I don't even need to remind her to enjoy her dinner because i know she definitely will.Even taking food from Zaw's share.LOL!!DAMN FUNNY WHEN I LOOKED AT THEM!It's really not very hard to believe she's been eating his share you know.=p

HEHEEHEEH!!

Alright,i think i'm gonna start revising alil now since i can't get back to sleep.It's time i felt the pressure.