Cindy.Chen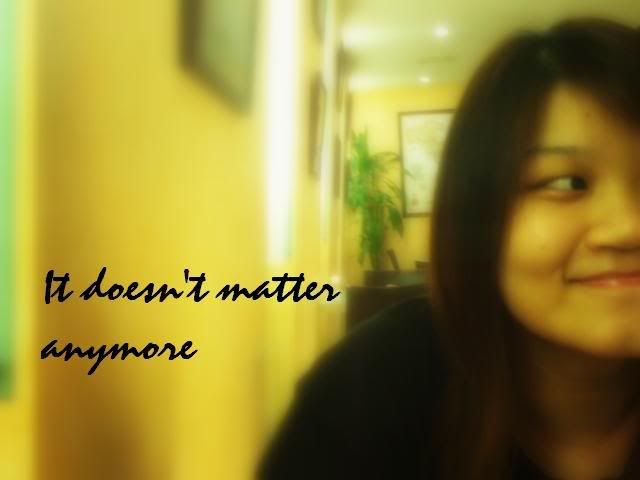 About ME


+25th Jan 1988.
+20 years old
+PSBAcademy.
+mhss.
+family.
+music.
+travel






Tuesday, May 01, 2007

*before you continue reading,lower your speaker volume just in case you kanna hung tio by the song i've uploaded*

I think i've said this before.

Only movies which can make me laugh till i die or cry till i'm blind are considered good movies.

And,200 pounds beauty has hit the benchmark.=)It didn't make me cry like there's no tomorrow though but it's movie i'd say it's worth to watch,or even,inspiring as quoted from my cousin.Not that everyone should start going to the plastic surgeon to fix appointments of course!

So anyway,i realised i've never been to Bugis's movie theatre before until just now.Wah lao,it's damn old school can?The seats are like,crappp!Luckily both my cousin and myself are tall enough,if not,i think the entire time we'll be staring at the seat infront of us instead.Like that poor little boy sitting a few seats away from us.He has to occasionally stand during the movie to watch.

Saturday was class gathering for 5C at Mind's Cafe.Quite a few turned up though,and i guess it's not that bad.Those who joined us in the later part,as in,REALLY LATE kind of late,kinda missed out a few games we played before that.Bumped into Ruiza and company outside Mind's Cafe while we were going out.

So in the end,3/4 of them decided to head for MOS.Although i know my reputation has probably been ruined,but i MUST clarify it was a last minute decision.I just didn't want to spoil the mood,really!

Anyway,this is what Esther has to say.




Alright,i shall let the pictures do the talking then.


i like this picture!(Below)


no seriously,


sometimes i dont know VART THE HELL she's doing too.


this picture is nice too!


1st group pic


2nd group pic


with the guru master


miss piggy!