Cindy.Chen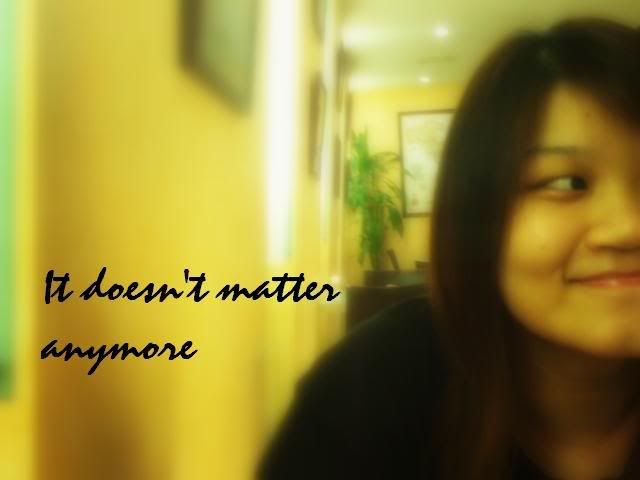 About ME


+25th Jan 1988.
+20 years old
+PSBAcademy.
+mhss.
+family.
+music.
+travel






Tuesday, April 03, 2007

Never say never.

I'm pretty impressed with myself actually.Guess what?

..
...
....
.....
......


I ate,ALONE!

(though i was on the phone,but still,i was alone okay.Nobody was sitting opposite me eating with me)

Such a breakthrough in 19teen years!

Anyway,today's my first day at a new shop(HAHAAHAH!)and no,i haven't quit my the other job.Meaning?I'm having 2 jobs now.Excuse me,i really need MONEY!$kaching$=)

And because we weren't supposed to eat-in(buy the food and go back to the shop),i was thinking to myself..

'huh?eat alone?i'd rather not eat.'

So,i skipped lunch.But hah!I was feeling so hungry,my stomach kept growling!So i decided to HECK IT and went to have my dinner at Yoshinoya.Reason being,it wasn't crowded.So i wouldn't feel so ke-lian mah!

Miao was telling me how damn useless i am,for not being able to eat alone.What's wrong with that lor?!Maybe i'm useless ONLY in this sense.

Work is boring.Seriously boring!Worse than the Organic shop.At least at that Organic shop,i used to have a REASON to go,a MOTIVATION for me.And the time passes like,really quickly and i wouldn't mind going early or going back later.

BUT!!!Ever since i realised *@*%&#%()!6 ,SIGH,it doesn't really matter anymore.=(

WAH LAO,WHY!!!Karen lah,everytime make me so demoralised.

I suddenly really feel damn sad,harya bye lah!