Cindy.Chen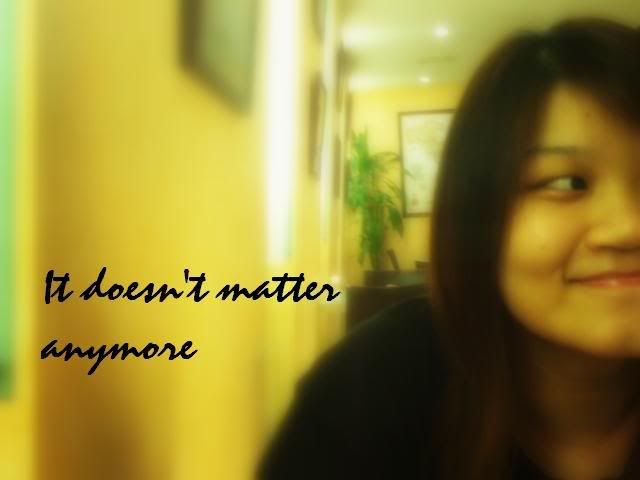 About ME


+25th Jan 1988.
+20 years old
+PSBAcademy.
+mhss.
+family.
+music.
+travel






Monday, April 16, 2007

Okay damnit!AGAIN!MY ENTRY IS GONE,AGAIN!Just what the hell is wrong with blogspot huh!?SICKENING!

Anyway,i'm just gonna summarise everything.Sorry Esther,i typed out a long entry and it's gone.So i'm having mood-swing now while you're sleeping.

I'm at Esther's place now,staying over just to use the internet.

1) She's damn luo-so and her mom thinks so too!
2) She's crazy becus she called my mobile to say Goodnight when i'm just outside her living room and her mom thinks she's damn boliao too!

All in all,Esther is just..hmmm...okay never mind!

Work was okay today.There were countable souls.The one thing i can't stand when doing closing is that,there'll definitely be some super idiotic customer who PURPOSELY choose to stop by your shop JUST BEFORE YOU CLOSE.Bloody shit!They had all the time in the world during the day YET they chose to come 5 mins before the shop close.AND,taking their own sweet time choosing their stuff and coming to you and say,

'there's nothing i like here'

EAT SOME SHIT WILL YOU?!

AND,'cuse me,where the hell were you from 11am to 8.55pm?

I don't even wanna roar.I just feel like slamming the door right in their faces.

SO ANYWAY,after i got delayed by that biatch for 45 minutes,went to meet Esther and her bf at Cine before going to Swensens for supper cum dinner cum lunch cum breakfast.

4 meals = 1 Fish n Chips

BOW TO ME!

Yesterday was out with Esther(again),her bf(and again) and Sam.I seriously think i'm a gooseberry man!SAM I NEED YOU!=DAnyway,we went to KBOX for a good 4 hours of singing cum shouting cum buffet session.It was hell funny lah!

First,we acted like some typical kiasu singaporean,taking SOOOO many food into the room.The staffs looked at us when we walked past them and we had to walk really quickly cus it was quite embarrassing.What to do,our room was so far.So we saved the trouble and took everything in one shot.

Then,this is the funny part.

Sam was singing Abba's Money Money Money,and i was like

'wah,this song speaks right from my heart man!',so,i joined her.

Esther was recording a video of us and when it came to the chorus,we were singing really loudly and Esther got damn high.She only started to video us towards the ending of the song,dumb right?Never mind,that's not the point.

So she got all so hyped up she was like,

'ONE MORE TIME ONE MORE TIME!(with her hands up in the air)

We stopped,for 2 reasons.

One,is because the song has finished,duh?But she thought still has the chorus.

Two,was because we already saw the waiter waiting outside the room but Esther didn't know because her back was facing the door.So,just nice when Esther was feeling so hyped up and shouting 'ONE MORE TIME ONE MORE TIME!',the waiter came in with a very solemn,

'xiao jie,ni men de shi jian tao le'(miss,your time is up)

OHMEGOD,we were laughing like some madass lah!HAHAAHAAHAH!That's the best part of the day man,seriously!

Okay,while i'm typing this,i'm smiling to myself.I'm URM-CHIOing.I can't laugh out loud,i scared later Esther's mom thinks i'm crazy.

Now i'm thinking,how am i gonna tahan till 7 in the morning?

Esther is such a pig!