Cindy.Chen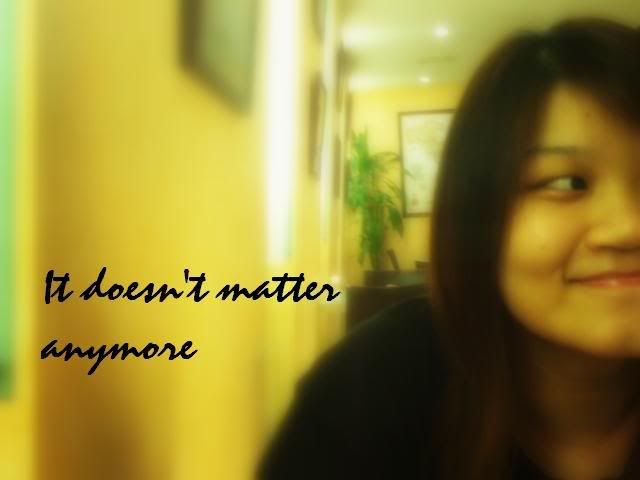 About ME


+25th Jan 1988.
+20 years old
+PSBAcademy.
+mhss.
+family.
+music.
+travel






Thursday, April 26, 2007

OVER!!IT'S FINALLY OVER!!!AND I'M SO DAMN RELIEVED!!

Well,i won't say i'm gonna pass with flying colours for Accounts but at least i'm confident enough to say i will pass.Wah,it really feels damn good after the paper!

Luckily i piah all the way yesterday!It's like there's this section which came out exactly the same as the one i did yesterday while revising.And i'm damn sure that 20plus marks are so gonna be mine!

But still,i'd like to say thanks to those who have helped me!Kaijia and Karen bitch especially!Even if i predict wrongly and flunk it,i'll still be okay because i know i've really tried!Yah,although it's very last min but still!Those unproper nights are accounted for=)

So anyway,went back to GWC to collect my pay from the organic shop and heard they're gonna open a cafe beside the shop.Looks like their business is picking up,damn!Then after collecting the pay,went back to TBP to meet Esther and Sam.Well,not exactly meet them.I waited for them.

While waiting for them,i was on the phone with Karen.I totally understand how she feel.Seriously,sometimes it doesn't pay to be nice to people.Okay,maybe certain people.I'm not trying to say be mean to others is the way to go but we have to really see who are the kind of people we're dealing with.Frankly speaking,you'll lose out if you're one of the Mr/Miss Nice in this practical world.Like what i said,PRACTICAL world.Being nice doesn't get you THAT FAR.Others will only take advantage of you.

Bottomline:Be nice to those who deserves it.

You will know who deserves what.

Despite having said that,i'm still a nice person lah.=)

So after waiting for approximately 1 and a half of my precious hour,met Esther for a pathetic 10 mins and she had to go for class.So in the end,sam and myself decided to go Vivo to eat dinner.

We saw so many celebrities.First was the dancefloor contestants,Vas is damn cute lah!RUSSIAN LEH!!HAHAHAHAH!Then we saw Taufik.Super dao.And then followed by alot more because there was this red carpet event for the premier of Spiderman 3.All the celebrities are so snobbish man!Like,EEEEEWWWW!(LOL!Only karen knows what i'm trying to do!)

After which we headed for Secret Recipe for dinner and Esther came to meet us again.Went over to Harbourfront's McDonalds for awhile and then straight home.

HAHAHAHAHAAH!Esther is damn nonsense!She sent me this picture which made me laugh like nobody's business!!IT'S FRIGGING FUNNY!!!!!!!!!But i can't post it here because she might sue me for defamation.

ANYWAY!Remember the entry when i mentioned she kinda paiseh herself when the waiter came in to tell us our time was up?Okay,i have the video for it.The infamous 'ONE MORE TIME ONE MORE TIME!'.Even Elena also laughed like crazy when i sent her the video.

*NOTE the part when she 'oh' at the ending.*
Please heck our singing.We weren't really singing,we were just screaming.LOL!