Cindy.Chen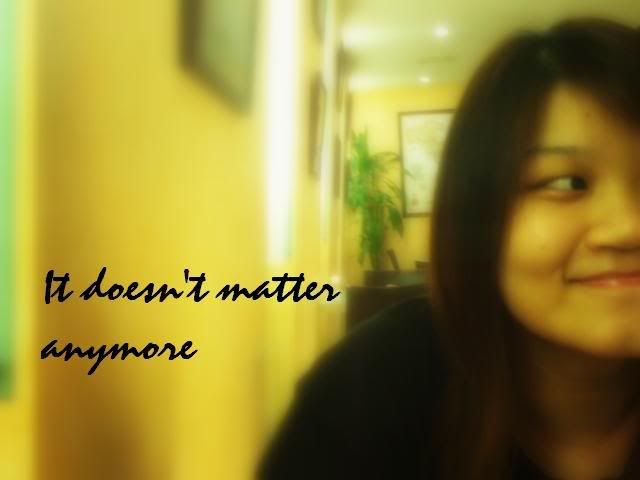 About ME


+25th Jan 1988.
+20 years old
+PSBAcademy.
+mhss.
+family.
+music.
+travel






Tuesday, April 24, 2007

Sometimes i can be damn pissed with myself.It's like,i know i've read through that thing before and yet,at that very critical moment,i just bloody can't remember a single shit!

Now i'm just hoping whatever Karen and Kaijia taught me wouldn't go to waste.

Anyway,Karen and Andy came over to my place on friday and saturday.Karen was here for a purpose,teaching me accounts.But i don't know about Andy.He came here and totally conquered my bed EVEN THOUGH he saw the bags all over the bed.Just in case you're wondering why i put my bags on my bed,i don't usually do that.It's to restrict certain people,but they choose to ignore it,completely.

ANYHOWS,yup.Thanks bitch!Minus your bitchy bf.:P

Esther and Sam came over yesterday.Amazingly,i really did studied for that 2 hours when Sam was asleep.So Esther came over after her driving lesson,she drove here.Wah lao,make me jealous only.HAHAAHAH!

Esther kept complaining she was damn hungry from the moment she stepped into my house.So we ordered McDonalds and while waiting for it to arrive,my maid prepared some noodles for her too.We thought she might be alil full after that,but guess what?Right after her noodles,she devoured the McSpicy which arrived no longer than 3 mintues.Food marathon okay!

*Okay,i better correct that before she starts complaining i always make her look/sound bad in my blog*

No lah,she usually have really tiny appetite.Just that yesterday she kind of lose it all because my house has that 'eat,eAT,EAT!' aura.

And so,we did the usual.Phototaking using webcam AND!!Making 'mtv'.LOL!I'm really damn tempted to put it up but i think they will slaughter me especially Esther.HAHAHAAH!It's really friggin funny!

Esther's version of Justin Timberlake's What Comes Around Goes Around,

"this is the way it's going wrong......what comes around comes around comes around go all the way back around"

Alright,now i think it's not the time to be funny.After wednesday,I WILL BE BACK!


Look who's got a new set of pearly whites?!


Starring:the-suddenly-appeared-from-nowhere 'korean star'.Can tell i'm being forced to take right?!KOREAN STAR.


Yes Sam,we have eyes to see!


Esther's bf,the SUMO!


Don't you find the girl in the middle damn familiar?Yes,Chucky's bride!


HOW CUTE!LOL!


A room without light.



And with lights.Big difference.I miss my lights!