Cindy.Chen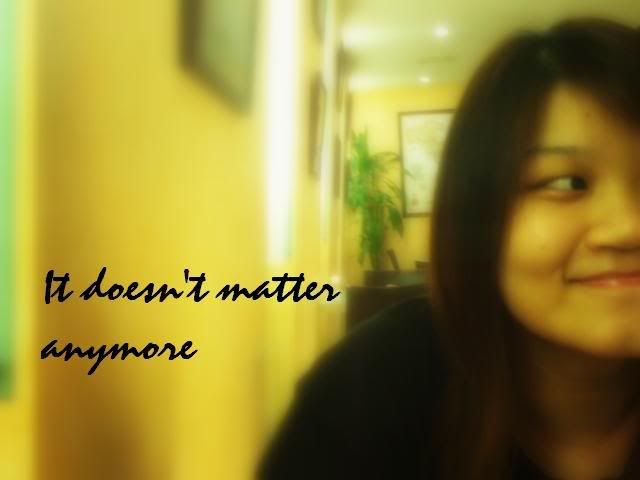 About ME


+25th Jan 1988.
+20 years old
+PSBAcademy.
+mhss.
+family.
+music.
+travel






Sunday, April 01, 2007

This is very random.





I think guys who are born in the year 1980 are DAMN HANDSOME!!LOLOLOL!!



ANYWAY,had dinner with my grandma and relatives just now to sort of celebrate grandma's birthday.The actual day is tomorrow though.Then,went over to Coffee Bean to CHILL with miao.WAH LAO,why is everyone in love?!What's wrong with Mr Cupid!?TOO FREE AH!

Okay,just kidding people!Sour grape here.BE HAPPILY IN LOVE OKAY?IGNORE ME.

I'm so gonna be in dead meat.I've 2 exams coming up this month,stupid marketing and ACCOUNTS and YET i still have no idea,yes,no a single clue on what accounts is all about.I mean,yes i do know but its damn complicated leh!DIE!Just kill me,kill me lah.

My dad's gonna slaughter me alive,BIT BY BIT if he finds out i suck in this damn module and am GOING TO FAIL his favourite subject.DEAD.

WOW,actually alot has been happening but i'm just too lazy to blog it all out.it's 3am now and i should be hitting the sack right about now!NITE Y'ALL!=)



a'lil narcissism is HEALTHY!TRUST ME!


Seriously,i don't know where did the rest of the 'dish pictures' gone to!This is the only one i found,so there you go!


Notice the 2 person at the side


MY AH MA!!we're buddies too!I LOVE HER!=)


Okay,this is kinda scary yet funny.That's my hand lah!


we DO get along!we were forced to take this picture!


COOL EH!?!*ahem*photographer earns the credit.


SHE'S THE ONE WHO LOVES TO PINCH MY CHEEKS!ROAR!


I swear after i took off the glasses,i felt damn giddy.I'm better off without them.hehe!



Addicted to this song!