Cindy.Chen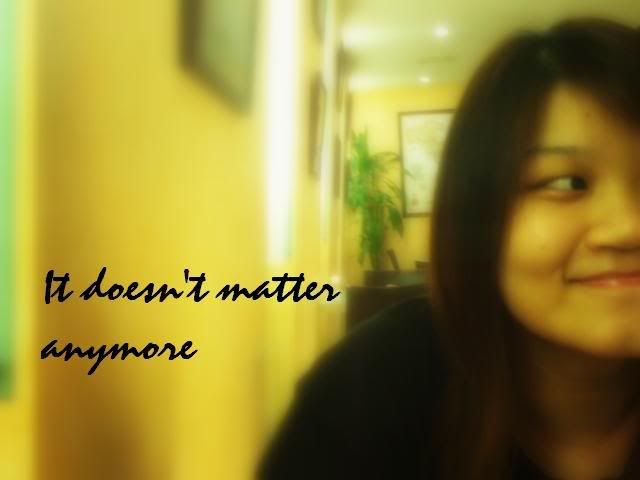 About ME


+25th Jan 1988.
+20 years old
+PSBAcademy.
+mhss.
+family.
+music.
+travel






Monday, April 09, 2007

Working is really tiring.

My legs have been cramping every now and then these days.=(

I must not cut myself anymore slack because i'm seriously lagging behind my studies that i doubt i'll be able to make it through for the exams.Wah,i really hope i won't fail again man!

Anyway,yesterday's gathering turned out to be pretty alright!Went for dinner and caught 'Freedom Writer' after that.That show is good man!No more awkward moments though we have barely seen each other for the past 6 years!I'm sure there'll be more to come,i had a deal with the guys,damnit.I shouldn't talk big.HAHAAHAHAH!

Back to work.

I like my supervisor!She's damn nice lah!

Okay,so today,i wanted to go cycling at ECP but my knock off hours was pushed back by an hour so,it'll be rather late by the time we reach there.Well,I did kinda mood-swing lah.But the supervisor was so nice to me,i can't bring myself to be angry.

THEN,Esther,Sam and Zaw(Esther's bf)turned up at my workplace and gave me a huge shock!I seriously had no idea they'll dropped by to pick me up from work.HEHEHEEHEH!Very nice of them because i was seriously kinda moody due to HAVING TO WORK TOMORROW WHEN I'M SUPPOSED TO HAVE MY OFF DAY TOMORROW.=(

But ahhhhh,never mind.It's all because of you.

We wanted to catch a movie but there's nothing nice to watch so i suggested Mind's Cafe and it turns out to be a pretty smart choice!We sure had alot of fun!Laughing at Esther,taking stupid pictures etc.

Sometimes what we want in life is actually so simple.

We just need someone to love and love us in return.That's all.When i say love,it's general not just couple-relationship love.

You see,after a day at work,you get to chill out with your good friends and even though it's only for a couple of hours,you feel that it's the best time of your life and all the tiredness in you somehow just disappear.It's that kind of feeling everyone's searching for.No matter people changed,how somethings seemed out of place,memories always stays.So just remember,Today shall be the memory for Tomorrow.

Right,i'm so tired i'm gonna hit the sack now.CIAO!



HAPPY 22nd BIRTHDAY MIAOOOOO!!!!!!!!!!;)




let me hear some good news soon!=D





Esther said she look like some korean star.RIGHT.


guess who's the winner and who's the loser.*hint* LOSER has the MOST cards.


AWWWW!


'Fishball!' - Quoted from SAM!!


she loves to feed me with tobasco sauce,i don't know why!


candid!


more candid!


so attentive ah esther!


you have to get used to seeing pictures like this.it's already our habit when we're eating chocolate.



I had a fun day!=)