Cindy.Chen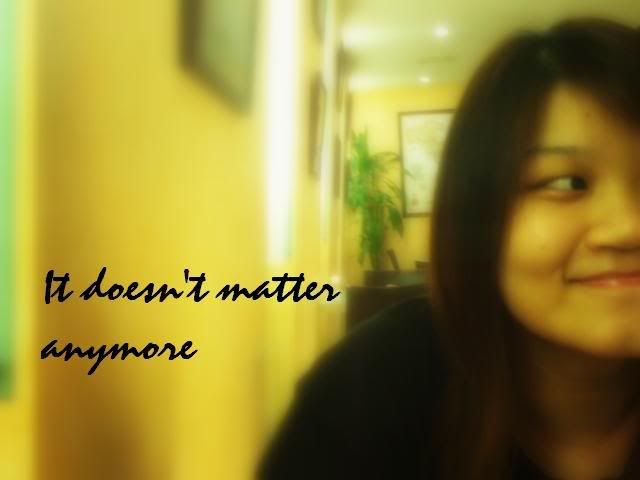 About ME


+25th Jan 1988.
+20 years old
+PSBAcademy.
+mhss.
+family.
+music.
+travel






Friday, April 13, 2007

YAY!So my desktop's suffering from some moodswing like me,and decided to operate itself today.

I'm not so low afterall.I decided not to work in the end!HAHAAHA!YO?I need a break man!I've been working from 11-9pm 4 days straight!It's really impressing for someone like me okay?Esther was like..

'Wah,so not like you leh.What happened ah?'

I don't know why but we've been mocking at each other lately.

The other day at QBar,we took a picture which made me looked as if i had cock eye.Apparently,our kay kiang Sam used 2 cameras(one on top of another)and take the picture at the same time.Normal people can't multitask their eyes what,so of course i chose to look at my camera instead of Esther's,which turned out to be like that lah.

Then on MSN,instead of saying HI to each other,i nudged her and..

Esther:yea what's up cock eye?
Me:..oh nothing much,double-chin.

HAHAHAAH!ESTHER CAN BE DAMN MEAN AT TIMES TOO OKAY!

Anyway,yesterday while waiting for my bus back home,i saw Jonathan Wong.Well,he was on another bus actually.It's kinda weird seeing him around this area although yes i know he has moved house.It's like,seeing RAMJUDEEN at Sixth Avenue.OOOPS!

I'm damn tempted to buy the VAIO laptop but i guess i can just forget about it.You know why?Because i can't even afford to buy a new phone(which i've been saying i'll change since 4 years ago,yes i know,stop reminding me will you?).HAI,so sad.Birthday over,can't request.

OLRITE,i think i better start on my revision after this!DAMN ACCOUNTS,DAMN MARKETING!THEY ARE KILLING ME BIT BY BIT.