Cindy.Chen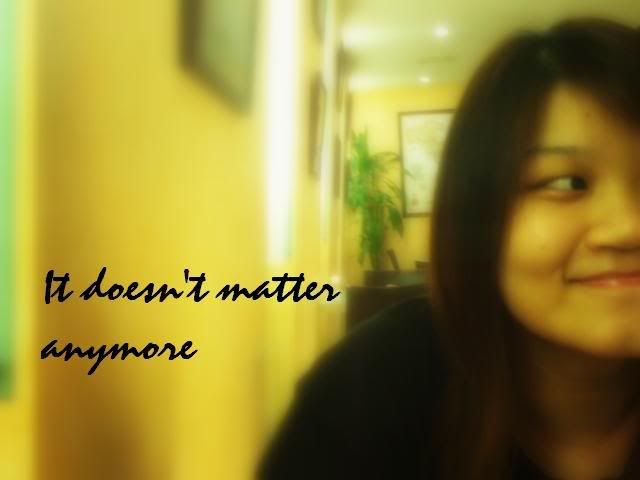 About ME


+25th Jan 1988.
+20 years old
+PSBAcademy.
+mhss.
+family.
+music.
+travel






Monday, May 28, 2007

If you don't really know me well,you may continue reading.If you think you know me well enough,you may skip this post.But i know you will continue reading it,so heck what i've just said.

I HATE,and i mean HATE TO THE CORE kind of hate,people who keep calling my name every 10 seconds.Ok fine,maybe not that precise as of 10 seconds but you know,like calling your name more than 10 times in a short span of 5 mins kind of thing?Bloody hell,especially when you're doing something halfway.It's really,really friggin annoying to me!

I really don't give a damn who it may be.

Like for example,today.

This colleague of mine,probably in his mid-30s,i don't really have a problem with him.No,seriously.Ok,maybe a little.But how do i put it?He's nice enough to buy food for people and erm,thank people after they finish their shifts.

One thing i can't stand about him is that he's those sort of 9 o'clock sharp and i'm off kind of person.It's the time when the shop closes.And if there's still customer in the shop after 9,he will moodswing and seriously,give rather bad service to the customer.So yah,i pity the customer.

I mean,be flexible lah?Yes i agree,some customers can be a pain in the ass sometimes but,you know.

And when it comes to lunch time,even worse.For example if he request for 1pm,no matter how busy the shop is,he won't allow it to delay him for more than 5 mins.And say,if he comes back to the shop 5 mins earlier,he will tell you this.

'i'm still having my break ah.'

Meaning?Don't ask him to help.

Ok,so my main problem with him probably lies with the calling-my-name-as-though-it-was-free-of-charge-though-yes-it-is-free-of-charge but still?!I don't know how many times i've moodswing from left to right today.He was totally oblivious to it.Until..

colleague:eh cindy
me:-no reply-
colleague:cindy!
-walks to the counter-
colleague:*blah blah blah*
-nod my head,did whatever he asked-
colleague:eh cindy
me:-no reply-
colleague:cindy!
me:what?!*

with the super annoyed face

*
colleague:oh nothing,i thought where you go.
-walks away-

And then,he finally shut his gap.HURRAY!

You guys have no idea how many times i kept walking behind the shop so that he can't see me and went over to the other shop to talk to my another colleague,because seriously,the colleague is so much better.He is so much quieter.I really needed peace in my ears.

Work tomorrow again.But i'm sure it'll be sooo much better.Duh?The person who annoys me the most isn't working what.