Cindy.Chen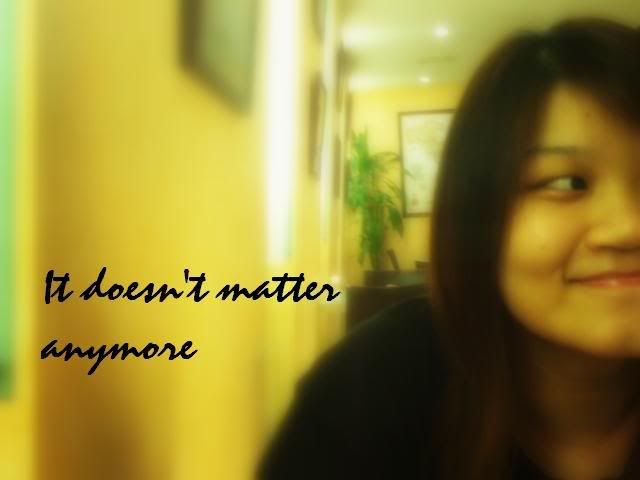 About ME


+25th Jan 1988.
+20 years old
+PSBAcademy.
+mhss.
+family.
+music.
+travel






Monday, May 07, 2007

Tsktsk,sometimes i feel i'm such a workaholic but yet,i always don't see any money coming in.DAMN!

Yesterday during my dinner cum lunch break,met up with the 3 couples.YES,THREE.Tell me about it.They were each in their own world,including me,with my IMAGINARY friend.Just kidding,lah!But seriously,how cool can i get right?Going out with not one,not two but THREE couples.

But anyway,only met them for awhile and i had to go back to work.

Today,i wanted to stay at home becus the time of the month is here AND it's like,you'll just feel like staying at home after going out for the past 6 days of the week.When i say GOING OUT,it meant as WORKING.NOT TAITAI-ing!

WHY?!!?WHEN,WHEN?Just WHEN?!

Ok so in the end,the usual 3 muskeeters(Esther,Zaw and Sam)let's name them Z.E.S,actually DISAPPROVED me when i say i don't feel like going out.

DISAPPROVED leh!Wah lao!

So yah lor,no choice lor,took 1 hour to travel down to Habourfront to meet them and go Sentosa.BUT!!It's worth it lah!

We went to sit the Skyride and played LUGE.It was super fun!It was Sam and my first time sitting the Skyride so we were pretty freak out when the thing went up.Ok,we're probably damn 'sua gu' but i think very few people know this,even my close friends.

I'm actually afraid of heights.

HAHAHAAHA!I'm serious!But i like the thrills lah.So generally,i wouldn't mind trying out new stuff.But yea,it's scary when i know my feet can't stand on firm grounds.

So we played luge,it's something like go kart but it's a different version.It's super cool,erm,minus off the smelly helmets we had to put on.I swear it's friggin smelly to the max!Then we went to have our dinner and after which,we went to watch the Sound of Sea.OMG,it's damn nice!Somemore got fireworks and everything,it's really damn damn nice!I'll give it a 5 star!

After everything,we went to vivo to meet Christy and Sam Chua.On the way there,we were sitting the skytrain back to vivo and there was this couple PDA-ing infront of us.

GROSS.

Seriously,what's up with people thesedays?!GET A ROOM YO?!I believe both parties will be more entertained behind doors and WE,the public,are MORE THAN HAPPY not to be entertained becus we DO NOT need that kind of entertainment.

SO after we reached vivo,Esther and Zaw went off first and we waited for Sam Chua and Christy to finish their LJS before heading for Rochor's beancurd.Thanks to Sam becus she was driving,so it was pretty convenient.SIGH!WHEN CAN I DRIVE?!

Pictures will be up when i find my USB.CIAO!