Cindy.Chen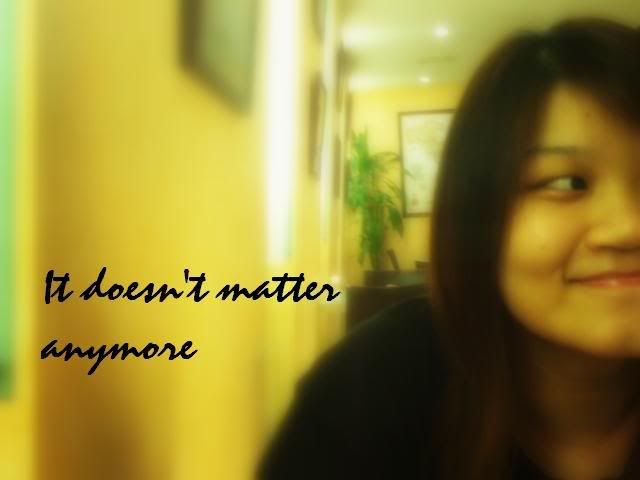 About ME


+25th Jan 1988.
+20 years old
+PSBAcademy.
+mhss.
+family.
+music.
+travel






Saturday, May 05, 2007

Work is damn tiring today!

Can you imagine sweating in an air-conditioned shop?I don't usually sweat in the shop becus the aircon is damn cold.But today,we have to shift alot of stuff from one shop to another and trust me,i walked in and out for more than 30 times!NOT exagerrating at all.I'm damn serious.Even those aunties and uncles sitting at the bench near our shop were asking me,

'bu lei ah?(not tired ah)

LEI LAH!But no choice!My that damn nice supervisor is pregnant and i can't bear to let her do all the chores.Even though i'm friggin lazy,when i see her squatting down to take stuff for customer or climbling up to restock,i can't help but to tell her

'it's ok,i will do it.'

I suddenly realised i can be damn nice too,wah lao why like that?

So anyway,met up with Ruiza for lunch cum dinner.I realised everytime when we meet up to eat in Taka,the only place we'll go to is Delifrance.Okay,more like I EAT.It's like,of 10 times we meet,8 and a half time i'll be the one eating.And her appetite is like mouse.2 bites of pizza and she will say she's full.Yah lah,i heard you.Our size says it all.But i SUSPECT she's on a secretly never-ending diet or something!:p just kidding.

After work,met up with Sam at J8 and bought some food back to her home while waiting for Esther.Didn't really do much becus Esther and myself(ok,mostly myself)are practically zonked out already.

Tomorrow's Esther's company D&D and i'm still feeling pretty guilty about not going.Sorry babe!I shall just wait for your dvd then!=D

Alright,i think i'd better hit the sack right about now!Ciao bellos!