Cindy.Chen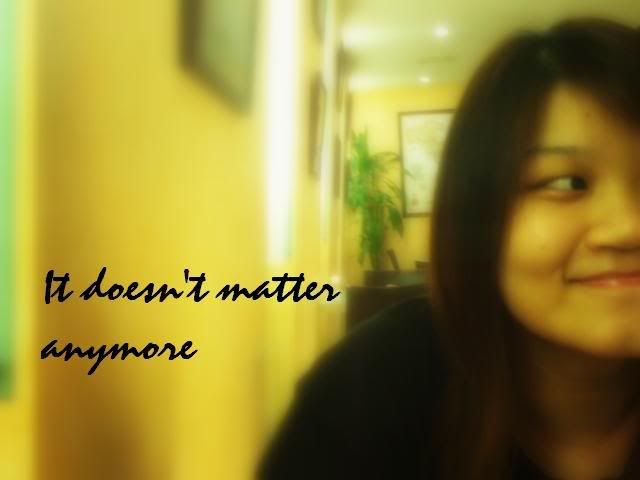 About ME


+25th Jan 1988.
+20 years old
+PSBAcademy.
+mhss.
+family.
+music.
+travel






Wednesday, May 30, 2007

Yesterday after work,i felt as though i flew back home.It took me only about 30 mins to reach home,just in time to catch the last episode of Mars vs Venus.Sometimes it's good to have motivation.Instead of walking in my usual pace,i walked triple the speed ok?!

I'm quite sad that the show is over.9pm is just an empty slot for me now.=(

HOWEVER,i'm looking forward to the new 7pm show.ELVIN NG BABY!=)

Oh,i've watched Miss Universe 2007 just now and i'm quite surprised that Japan won.Surprise as in PLEASANT surprise hor.It shows that Asia is slowly climbing up eh?Then again,what has it got to do with me?LOL!

Anyway,while waiting for the bus just now,i bumped into someone.This is Karen and my secret.So bitch,don't even tell your bf hor!But i know you confirm say already,that's why you're a bitch.HAHA!JUST KIDDING MAN!;)

My immediate reaction was to msg bitch to tell her.

I tell you,i was trying to urm-chio to myself so hard i almost choked.It friggin' brought back loads of secondary school memories!

Speaking of secondary school,my elder sis,who was also an ex-mhsslian,was being a joker.It's either she can't accept the fact that Monk's Hill doesn't exist anymore or that she is suffering from serious STM.After so long,she still can msg me and ask

'monk's hill still around?'

I wish it is.

Ok,i'm damn sad now.Christy just told me she's leaving for Perth soon.Wah lao,Australia has been luring alot of my friends there you know!Believe me when i say environment changes a person.I know it's hard not to but it's true.I've seen,felt and overcome with the changes in another person.

Let's just hope Christy will stay the same,really!Because the only friends whose character i admire alot would be Elena and Christy.No,seriously.And,no offence to my other friends.I write what i see and how i feel.

I think i've said this before about Elena is that,i've rarely or almost never seen her get FUMING MAD before of the 12 years i've known her.Angry yes but she'll cool down very fast.And that's what i like about her.

For Christy is that,even if she gets angry,she'll try to make the people around her unaffected by her emotions.If she's angry with say,A,she wouldn't vent it on B.Unlike others,sometimes including myself,we always practice the 'everyone is equal' ritual.So if A makes me angry,B will get it too.Get what i mean?

I mean seriously man,their bfs/future bf/future husband or whatever,better treat them better than gems.

Ok enough.I'm off.