Cindy.Chen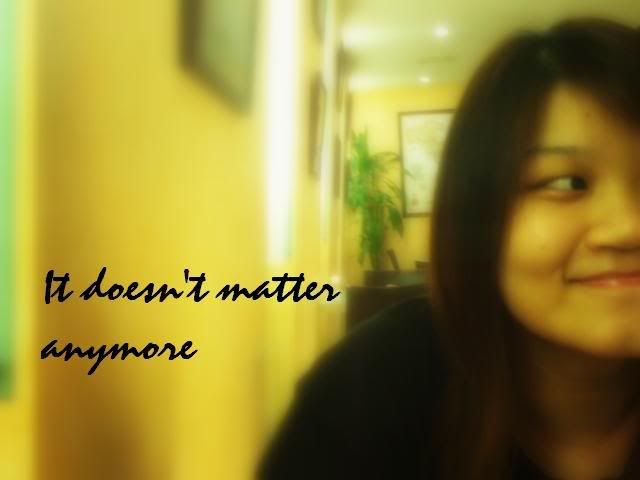 About ME


+25th Jan 1988.
+20 years old
+PSBAcademy.
+mhss.
+family.
+music.
+travel






Saturday, June 09, 2007

The initial thought of blogging today is because I needed to complain.But i think never mind lah,i don't want to tarnish your reputation,Elena.HAHAHAHAHAAH!

I still can't get over it lor!I booked you 2 weeks in advance leh.

But anyway,IT IS REALLY OKAY LAH,ENJOY yourselves okay?=)

HAHAHAHAH!I mean it lah.

Anyway,I'm so proud of myself today!After work,i went over to Ruiza's house for some gym workout.Wah lao,am i impressed with myself or what?!I actually ran 15 minutes straight on the treadmill leh.Ok,then you'll start comparing and say who can't,right?Don't friggin compare because running seriously isn't my cup of teh.And i haven't been exercising ever since,i really have no idea,that is why even if it's for 5 minutes,i'd have been pretty impress with myself already.So,15 minutes is like WOAH to me ok?

So after gym,we suddenly have the urge to go for a swim and man!it's been AGES since i stepped into a pool and damn,it felt damn right!=D

Then,we ordered McDonalds.Yah,stupid right?After working out,eat mac = wasted.But no choice lah.Everytime after swimming will be damn hungry one lor.So while waiting for the mac to arrive,Ruiza and myself had alil chat since it's been damn damn long since we actually sat down and talk.Although the topic is always the same but i don't know why we can never get bored of it.

Maybe not now.Maybe soon.But it's always good to stop,sit back and relax and look at what's been happening around you.