Cindy.Chen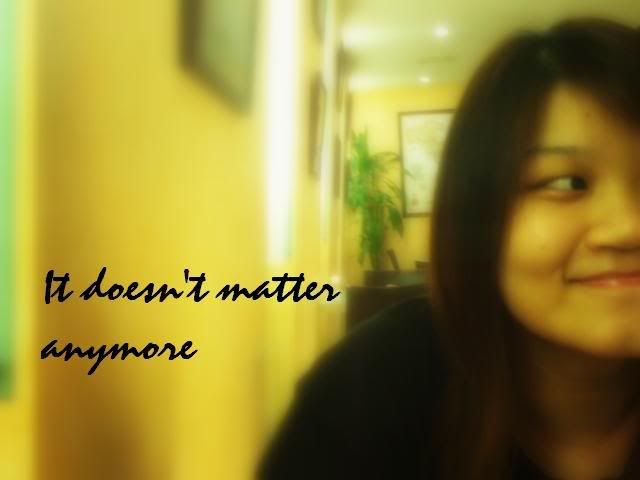 About ME


+25th Jan 1988.
+20 years old
+PSBAcademy.
+mhss.
+family.
+music.
+travel






Tuesday, June 19, 2007

Met up with Esther and Sam on Saturday.Met up,but didn't catch up.It was really damn ultra last minute.Esther only sent us a msg 3 hours beforehand.

That meet-up was all about cabs,and taxi-drivers.

Sam and myself took a cab down to Vivo since we were already late and that cab driver was abit soot.During that 10 minutes or so ride,he kept TSK-ing non stop.For example,me and sam are talking..

Sam:*blahblahblah*
Me:*blahblahblah*
Uncle:TSK

Wah kao!Even when we stopped talking,he was still tsk-ing can.

So never mind,we thought that was one of the very rare weird taxi rides we will ever come across but NOOOOOO.Read on.

We went to have our dinner for like,15 minutes and Esther suggested to go to this Live band place.We decided to take a cab down instead.

Wrong choice.

That stupid taxi driver doesn't even know where is Fort Canning!WAH LAO!Go slap yourself please.Even a 3-year-old knows where is it lah!

So his excuse was 'Because i'm new.'

Right,NEW.Let me repeat.Even a 3-year-old knows where is Fort Canning lah!

No,don't be mistaken.I'm perfectly fine with taxi-drivers who doesn't know their road directions.BUT,this particular driver really deserves some shit on his face.

We were talking among ourselves and bloody hell,he had to interupt our conversation and ask stupid questions which is,really,none of his business.So ok,Esther was trying to direct him the way(i mean,since he don't know right?!) and he kept trying to interupt her.Until a point she got fed-up and said,

Esther:i already said go straight right?!

Then when we ALMOST reached the place,Esther asked him to turn in to the carpark and he can actually tell us,

Stupid kay kiang driver:cannot!here how to turn!

We were so pissed off so we asked him to drop us at the traffic light.By the way,the turn was RIGHT INFRONT OF THE TRAFFIC LIGHT ok?DUMB SHIT.So the fare was $7.80 but he charged us 8 bucks.SCREW HIM MAN!

OH,and did i mention it was POURING HEAVILY?!WHAT'S THE POINT OF TAKING A CAB SINCE YOU WILL STILL BE CAUGHT IN THE RAIN AND GETTING DRENCHED,RIGHT?!

IDIOTIC!

We had to run all the way to the Live band place and guess what?It was damn crowded that although we were in the 'shelter',we were still getting wet constantly.So no choice,we decided to run back to the bus stop to wait for a cab,again.It was really dumb.

After waiting for about half an hour,we finally got a cab and again,it was a shit ride.Esther had to drop off at my place because the uncle doesn't want to go all the way to the west side.

How bad can that 2 hour 'meet-up' be,right?We didn't even have a proper talk.

Anyway,i've been webcam-ing with my elder sis these few days.The wonders of technology!;)HAHAHHAHA!


Some overdue pictures!


me and karen


the 3 couples i was talking about.


i'll miss them!:'(


oh,that's me.


and me again!HAHAHAAHH!I love myself too much lah sometimes.


things we do when we're bored.i don't like to use the word 'camwhore'.sound so wrong!



On Mother's Day:

HAHAAH!MY AH MA!=)

I LOVE HER!
My mom!Very ancient pose,i know.HAHAHAHAH!


LOL!I SIMPLE LOVE THIS PICTURE!DAMN FUNNY!



Does anyone know what the Gatsby commercial is all about?I don't leh.