Cindy.Chen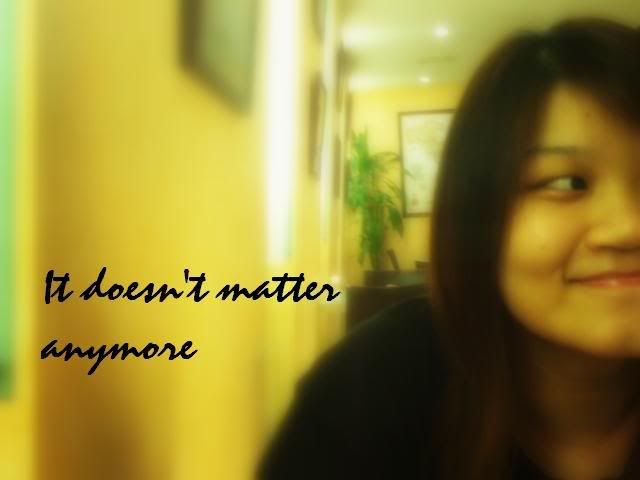 About ME


+25th Jan 1988.
+20 years old
+PSBAcademy.
+mhss.
+family.
+music.
+travel






Tuesday, June 05, 2007

These few days,my sisters and i have been doing nothing but eaT,eAT,EAT and still eating.I swear everytime when Cel comes back,her luggage is filled with nothing but snacks!And when she leaves?WORSE!She came back with one luggage but goes back with two.

She's leaving tomorrow though.But will be coming back a week's later for her airline's press conference in Singapore.Finally!Her flying route will include Singapore!

I had damn funny encounter yesterday.

I received a msg from my sis's bf.He was being damn funny,and i would say,weird?So he msged and asked me to take care of Cel as he's not around to take care of her in the first part of his msg which i thought was very sweet of him.AND THEN,i read on.

'...because she's the air that i breathe,my life,my everything!'

Cliche,i know.

I was like,huh!?What?!And i was laughing to myself while Cel was beside me.So i told her and she was like,

'siao!'(but urm-chioing)

I mean,you don't go about msg your gf/bf's siblings telling them that their sister/brother is (the ok-so-whats-new sentence like,)the air he's breathing and the reason he's living for and blah blah blah,right?

SO WEIRD LAH!LOL!

And when i told Elena..



I guess he knew i'd tell Cel for sure so,in a way,he's smart.
HAHAHAHAAH!

Anyway,i was so pissed off with my dad that day.And my mom.I don't know what the hell is wrong with them sometimes.So difficult to read their mind!Yes,this time i've declared cold war with them.Maybe more with my dad.Everytime he declare,now it's my turn man!

Working tomorrow.BORING!

Experts say,find a job you enjoy, and never work a day in your life.So if one day you realise i don't use the word WORKING anymore,it may be that i've already become a taitai.