Cindy.Chen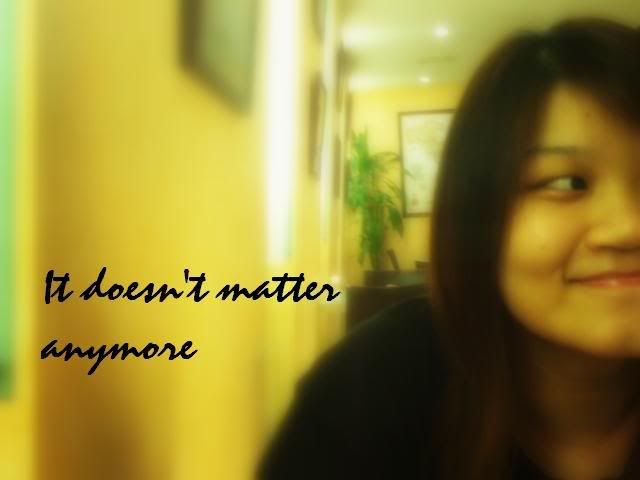 About ME


+25th Jan 1988.
+20 years old
+PSBAcademy.
+mhss.
+family.
+music.
+travel






Saturday, June 23, 2007

Wah lao,i don't know what's with IMEEM's 30-seconds preview of songs man.

Anyway,went to Christy's party yesterday.The place was not too bad,in fact,a very cool place to chill with friends.AND,she wore a dress!Don't play play,Christy can be feminine too okay.But she totally ruined her image soonafter.HAHAAHA!

She was so drunk that after cutting the cake,she said she wanted to go home.We couldn't get a cab,so she asked her friend to send us back.

All in all,it was not too bad actually.Got to meet up with the rest and seriously,if someone were to organise something like this for me,i think i'll cry forever!

EH,I'M NOT HINTING HOR!!



My friends also not sweet one.


LOL!!!!!!!!!

Anyway,i just wanna declare something.My camera is officially spoilt.After 3 years,i dropped it for the 1st time.FIRST TIME and it spoilt right before me.Thanks to MIAO lah!Keep wanting to touch my chin,bloody shit.HAHAHAHAAH!Okay lah,she's feeling so bad already,i shan't be hard on her.

OH!And while we were chilling at Starbucks just now,this crazy woman came along.Goodness.She was very steady.

We were sitting on those sofa seats and there were 2 other ladies sitting opposite us.So beside me,there was this empty seat.That woman came into Starbucks,saw the seat beside me,sat down and LAID DOWN ALMOST IMMEDIATELY(nearly!)ON ME!Wah,i got the shock of my life i swear!

So,i quickly swifted my body since her head was so near my ass that if i were to ever let go of my gas,she might die.Actually come to think of it,i should!DAMN!So far only Karen knows the smell.LOLOLOLOL!!

Slient killer!

I've actually took a picture of her SECRETLY!I'll post it up soon when i receive the pic from miao.

Alright,i think i'd better go now!CIAO!