Cindy.Chen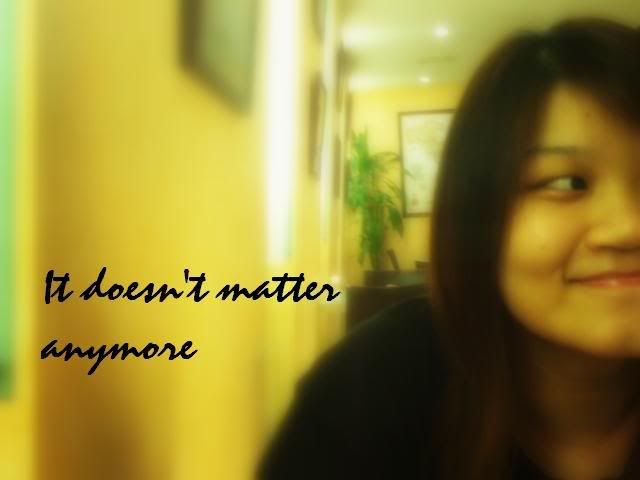 About ME


+25th Jan 1988.
+20 years old
+PSBAcademy.
+mhss.
+family.
+music.
+travel






Wednesday, July 25, 2007

Of the blogs i've visited lately,about 90% of them has put up pictures and alert to find Felicia.Even strangers are helping!It's almost like an islandwide news already.You can see notices and pictures of her all across town,it's almost everywhere.So i think i should do my part as well,since i know her personally.

It's quite sad to think about it since we last saw her just a day before she went missing,which was the day we sent Christy off.She asked us to accompany her to the toilet as she felt her feet stinked because of the flats she was wearing.And when we were in the toilet,she wanted to put her feet into the sink so as to wash it and i was laughing at her.I gave her a better suggestion instead.

'Eh Felicia,just damp the toilet paper and clean lah?'
'OH YARRRR hor!!'*laughs*

The few times i've talked to Christy,she seemed so down and lost.I totally understand where she is coming from.Her best friend is missing yet she can't even be here to look for her.Nobody will never want anything to happen to their friends,so the only thing we could really do now is to spread the word.

We don't really know what's the reason behind her disappearance but i guess whatever it is,i just hope so much that nothing will happen to her!Singapore is a small city,but to find a person can be quite disheartening,especially when you don't know what is really going on.

I believe no matter how long it takes,your family and friends will always be waiting for you,Felicia!

In the meanwhile,let us all just pray for her safe return.





P.S:If you just happen to stop by this blog,take a moment to visit this blog that is specially set up for Fel by her friends who are all waiting for a miracle to happen!Do help to spread the message around as this is the only thing you can do and it will definitely mean so much to her loved ones!