Cindy.Chen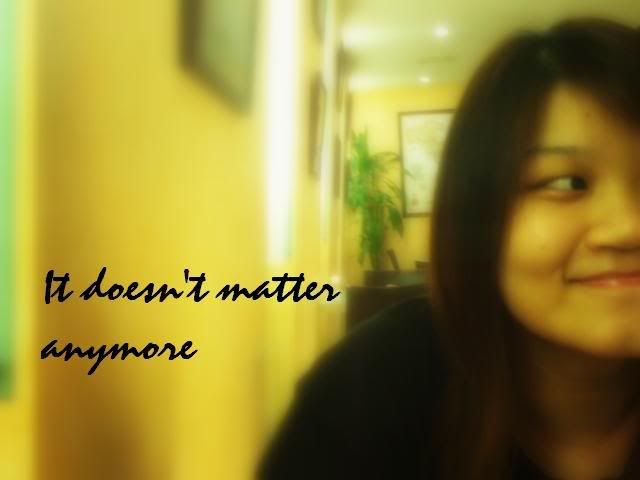 About ME


+25th Jan 1988.
+20 years old
+PSBAcademy.
+mhss.
+family.
+music.
+travel






Saturday, July 28, 2007

Yesterday,i accompanied my mom to the dentist as she has been complaining about her tooth ever since,ever.So finally decided to drop by the dental clinic and my mom went on to PULL OUT her tooth.

You could just faint seeing the amount of blood and how deep the hole was,or rather,is.


Mom looked so poor thing,her whole body was shaking from the pain.I really can't imagine the pain,really cannot!!!And guess what?She didn't even shed a tear.If it was me,i'll cry myself a river.HA HA,hmm..ok.


One thing about all Mothers i guess,is that,after going through labour,i think the word 'pain' is no longer in their dictionary.Agree?Agree.No choice,i have to QnA myself to keep myself entertained.This kind of self-entertain pain is also almost unbearable.


So while we were walking back to my grandma's place,i felt so heart-ached for my mom,i don't know what happened to me,i took out $150 and gave it her,AUTOMATICALLY.Eh wait wait,i'm not trying to say i'm filial or anything leh,ok,maybe i am,but what i'm trying to say is that ok yah,i'm filial.HAHAHAHAHAHHAHAHAH!

KIDDING LAH!!CHILL MAN!

Ok anyway,i really didn't know what to update lah.

CELINE CHEN keep asking me to update so as to entertain her.Then if my post not as interesting,she will say she's disappointed with my entry.And then,she will be like,


'NOT INTERESTING AT ALL!!'


[mind you,all caps hor!]




HURTING ONE LEH!People always break my fragile heart one.


I feel so pressurised now because when she looked through the webcam,it's as though she's staring at me.


Anyway,here's one conversation just now i had with Cel and it made me laughed so damn hard,i think my back might have a relapse.*CHOY*


Cel:last time don't know who say Joseph(cel's bf)looks like the Prison Break guy.
Me:HAHAHAAH!ME!!
Cel:yea,my crew also got say.Which one?


Me:the botak one lah.


Cel:show me leh.den they also say he looks like Bruce Willis.
Me:OMG,NOO!!WHERE GOT?
Cel:yah lor,i think insulting Joseph
Me:PLEASE LEH!is insulting Bruce Willis can?!


And we both started laughing at the other's end.


I personally feel other than Richard Gere,Bruce Willis is the next good-looking old man.HAHAHAHAHHAHAH!!I LOVE RICHARD GERE LOR!!


i know i looked like crap but heck,focus on her will you!?


i decided not to disgrace myself twice,so i followed edison by colouring the face. anyway,she's damn smart now.she knows dat i'll secretly take her pic and 1 second later,she turned around and combed her hair before showing her face infront of the webcam again and said to me,'ok,can take now.'


EATING.


Seriously,can someone kindly tell her she looks like a...housefly?'HOR SIN' in hokkien.OMG,MY HOKKIEN ROCKS!!