Cindy.Chen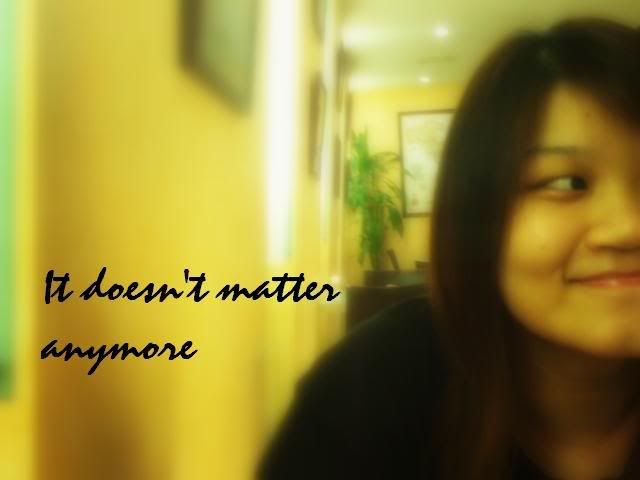 About ME


+25th Jan 1988.
+20 years old
+PSBAcademy.
+mhss.
+family.
+music.
+travel






Wednesday, September 19, 2007

HI ALL!

Sorry for the lack of updates man!Anyway,i've just came back from Taipei.It was okay,not as fun as i thought it would be though but yeah,it was okay.

By the way,i need to proudly announce..

I PASSED MY FTT IN MY FIRST ATTEMPT!!!!!

Neh neh ni poo poo!Go on,go ahead and laugh at my so-many-attempts for my BTT.My sister even said to me before i went to the centre,

'Please leh,don't think until so far.Your basic already need to take so many times,i think your FTT will be doubled.HAHAHA'.

As soon as i finished the test,i called up my sis and she was like,

'Really?!!?SAI LAH YOU!SHIT YOU!REALLY?'

LOL!!!DUI not,sister?;)

Anyway,back to the trip.It was all about eating and shopping and really,it's almost the same as Singapore.

So,on the second day of the trip,the hotel got us a driver to drive us around Taipei and man,wrong choice.That driver,whose 2 daughters are flight attendance(big wow),and wife,a japanese lecturer(big big wow),claimed that he's from a rich family and the reason why he is a driver?It's just for fun.Yah,nothing wrong to boast what.But isn't what he claimed abit exaggerating when he can't even fork out NT100(which is equivalent to SGD5)to buy 4 'ba zhang'?I really can't stand haolian people when they've got,really,nothing to haolian about.

Okay,so the wrong choice is not about him being a show off but instead,a nonstop talking machine.Just imagine,we set off at 10am all the way to 6pm,we couldn't have peace in our ears for 8 bloody hrs,even while we were trying to take a nap in the car!I swear if there's any TALK NOW OR NEVER compeition in Taiwan or any part of the world,he will champ them all!He really talks like he's never spoken to any human for the past 10 years of his life.In case some of you don't know,drivers in Taiwan are seated on the left seat.Poor Celine,she had to endure the countless times of saliva splattering all over the left side of her body.

Oh,and did i mention how shock some Taiwanese were when we told them we were from Singapore?They didn't know that Singaporean could speak Mandarin.=.="

Yup,i guess i shall let the pics do the talking.Pretty lazy to update actually!The pics are not in order,too lazy to sort them out.It's only 60% of the pics that are uploaded mind you!


First night was at Ruohe Night Market.


Clockwise:Oyster Omelette+some noodles;XXXXXXL Chicken;MANGO ICE!!!IT'S HUGEEEEE!and smelly toufu!


Celine eating.


The auntie.


Hotel Room.Triple bed!


Me and mom.


Me and sis.


pestering mom to buy the shrimps.


Taipei 101


It states:RAT NOODLE STALL.EECKS!


Steam water buns


Pineapple tarts.It's good!


At the temple


Oh,we went to Deng Li Jun's(Theresa Deng) memorial park too!


SHOPPING


Nagging away..


Lobby


This is how the children 'sit' on motorbikes.Damn dangerous


candid.as you can see,food is very impt to me than taking pics.


my long-outdate-superstar-wannabe mom.


at the memorial park.


At Xi Men Ding


In the middle of Xi Men Ding



That's all for today!