Cindy.Chen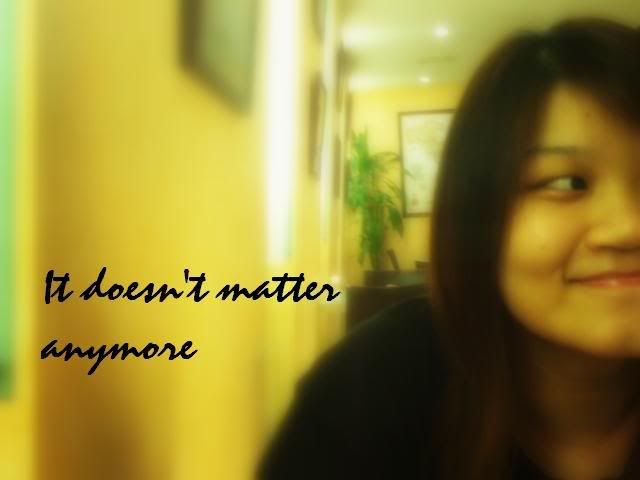 About ME


+25th Jan 1988.
+20 years old
+PSBAcademy.
+mhss.
+family.
+music.
+travel






Saturday, October 27, 2007

2 person told me about their dreams today.One is my elder sis,and the other one,Karen.

Celine's dream is very typical.FOOD!Infact,that's the only thing she can really dream about.Okay lah,almost.She should dream about something that's more,let me think of the word,dreamy?

Marry a rich man,having a big house,driving a luxurious car..err yah,typical too.But at least this kind of dream can bring more statisfaction than food what!

I think both she and dad shared a telepathy.My dad bought the same food she dreamt of just yesterday and it's really exactly the same.

Anyway,Karen's dream was worse.

I've hardly hear her telling me she dream of me,but when she finally do,she dreamt that i died.With my niece.First time dream of me,but i died straight after,and i was not alone.Karen,can you please learn to control your dreams?

Apparently,in her dreams,i was carrying my niece towards the window and i kind of lost balance of my niece when she was trying to move around so she fell and i tried to catch her but i lost grip and fell too.Then she went to my funeral and she saw 2 coffins side by side of each other.When she walked over to my coffin,she burst into tears...

Then,came my next question for her,

me:so,how do i looked?
karen:wah lao,people already cry until so jialat where got the mood to see how you look!
me:like somehow lah.
karen:can't see lah!

No,i'm serious.I'm kind of worried how will i look when i die.Especially if i die young.I know it's damn dumb to think of such things,but i can't help it man.

Anyway,back to Karen's dream.

I called her in the morning and she sounded so shock when she heard my voice.That's when she started telling me that dream.And..the eerie thing is that,wherever i went today,there's funeral.Maybe it's just coincidental but still,it really makes my hair stand!

OH!AND..she actually got my niece's name correct in the dream when she doesn't even know her chinese name!!

Karen Tan might be a psychic.Be afraid,be very afraid...