Cindy.Chen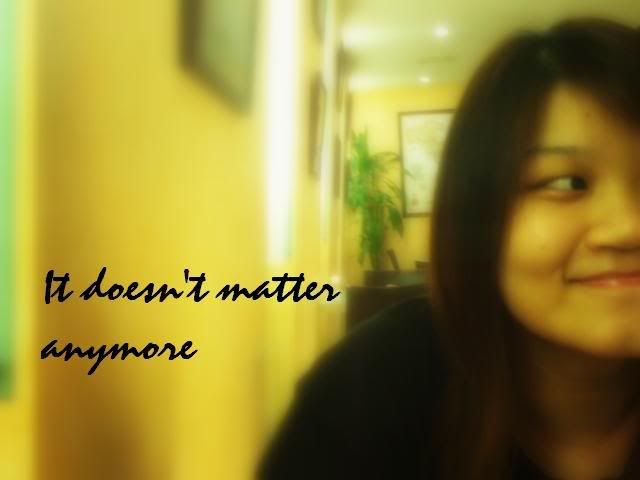 About ME


+25th Jan 1988.
+20 years old
+PSBAcademy.
+mhss.
+family.
+music.
+travel






Wednesday, October 17, 2007

I think i'm going nuts.I've been playing the Magic 8 ball in Facebook,asking questions and clicking on the ball for an answer and scolding back the ball when the answer is not what i'm looking for.To those who have no clue on what i'm talking about,this is what.



Don't mind me.

I've been staying at home since Thursday and i don't mind to continue rotting till i'm fully rotten.Isn't it great to be staying at home in such a cooling weather and having a damn comfy bed in your room which you can pounce on anytime!?One word - SHIOK!That is why,i find it damn hard to get out of the house when i'm not in the mood to go out.Yes,even if you give me a hundred bucks,i wouldn't.

I think Kelvin almost came to my house with a chopper while trying to convince me to go out the whole of yesterday afternoon.I don't know why but i'm really friggin lazy to go out.I don't like to walk around aimlessly because i get damn bored easily.And when i'm officially broke,like my bank account only left a single digit kind of broke,it's nearly impossible to ask me to get my ass out of the house.Unless,of course,you know what i'm driving at.

Anyways,i want to strangle the consultant who told me i needed to get a cert in order to take my diploma!KNS.I called up the school again to enquire about the diploma course because i flunked 2 of my modules and i have to retake the modules first before attaining the cert.So initially,i wanted to ask if i can just take the dip course first and at the same time,retake my modules but the consultant was like,

Consultant:You passed your English and Maths right?
Me:Yea i did.
Consultant:Then why didn't you take the diploma course in the first place?You could have taken it last year.
Me:No,because the consultant told me i needed to get a cert first in order to be eligible to take the diploma course.
Consultant:Huh?But as far as i'm concerned,you ARE eligible to apply what.
Me:What the hell!?You mean i've wasted 1 year to get the cert lah?!
Consultant:Sort of lor.

Yah,thanks to that STUPID CONSULTANT!Bloody shit.Thinking my dad would scold me but what the hell,it isn't my fault that the consultant is stupid,i went on to tell him anyways.

Me:Daddy!Wah lao,i just wasted 1 year on the cert lor.
Dad:Why leh?
Me:Just now i called the school and the person told me i could have just applied for the diploma course last year.Super waste money and time.
Dad:*laugh*harya never mind lah,no such thing as wasted.Anyway you already finish what.
Me:True lah but wah lao!Super waste my time man.
Dad:But you got alot of time to spare what,no meh?

To my surprise,he isn't as pissed off as me leh.

Alright,i gotta go watch tv now!ciao!