Cindy.Chen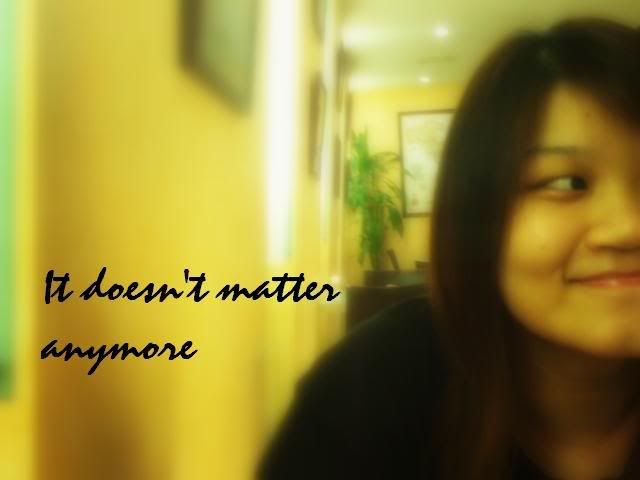 About ME


+25th Jan 1988.
+20 years old
+PSBAcademy.
+mhss.
+family.
+music.
+travel






Monday, October 08, 2007

Long time!I know,i know.It's just that,i've been finding stuff to blog but realise there's actually nothing to blog.Yeah,my life is so mundane right?Tell me about it.

Met up with Ruiza on Friday for awhile after i knocked off from work.The usual,nothing much.After that,headed down to Mustafa to meet up with Kelvin and psycho-ed Esther to go down as well.The reason she agreed was,she thought we were at some Indian pub because she heard the background music and she got all so hyped up.We were at a kopitiam actually.HAHAHAHA!So she took a cab down and while on the way to pick up her at the taxi stand,she kept calling and asked us to walk faster because there's alot of chee ko peis wolf-whistling at her.Yah,i think she think too much.They were probably wolf-whistling to some bapok lor.HEHEHEHEE!

Then,Kelvin suggested to go shop at Mustafa and Esther kept asking why because her purpose to go down was because of the 'Indian Pub'.So she probably already guessed there weren't any.But anyway,guess what?Despite her initial unwillingness to shop at Mustafa,she bought the most ok!?Even KK became her personal sales assistant,ordering him to help her find the bedsheets.Poor KK!

While we were walking around,Esther almost shocked me to death when..

Esther:Shit,i need to BJ damn badly!
Me:HUH?!WHAT!?ESTHER,DID YOU JUST SAID SOMETHING!?
Esther:Yah,i said i need to BJ...
(pause for a moment,while we were staring at each other in shock)
Esther:EH!what you thinking sia!I meant it as 'bang jio'(urine)

And we started laughing like crazy!I mean,c'mon,not that i'm dirty minded or anything ok!So after the 'bang jio' incident,we went up to another level.While walking,i was talking to Esther and i don't know what happened,the conversation ended up with me saying

Me:I SLAP YOU THEN YOU KNOW!

I said it really loudly i guess because i don't know is it just me or the entire level was in a mode of silence after i said that sentence.The best part was,there's this guy,who was choosing his appliances,looked back at us in the most innocent way like as though i was saying that sentence to him.I swear his reaction was CLASSIC man!Esther was roaring with laughter after witnessing that classic look.

After ALL HER,and only HER,shopping pleasure,we went back to the 'supposingly Indian pub music' kopitiam to have a drink.Her attention was all on the tv screen,looking at the bollywood actor coming out from the seashell,my god,hilarious!

So yesterday,met up with Miss Piggy again but before that,was with my cousin.We went to this restaurant called Bosses in English but Black Society for direct translation in Mandarin,Hei Se Hui.AND OMG,the mango there is FANTABULOUS OK!?It taste almost the same as Crystal Jade's mango pudding but just that it comes in liquid form.Pretty expensive but my god,so damn worth!

So after miao went to meet her lover,i met up with Esther.Did some miscellaneous stuff and went to Cafe Del Mar at Sentosa for a drink.Cool place but the weather was hot.Or rather,our attire was wrong.But it was indeed a nice place to chill.It's been damn long since we 2 actually sit down and have a drink unlike secondary school days,when we would go out every day,even before Sam joined us.I really,really miss those days.We could do stupid stuff,like really stupid things and feel damn proud of it.Why huh?Weird.

Alright,i think i shall dedicate my today to Celine,who's been circling in the sand for the past 2 days,and not forgetting,FLOODING MY HP WITH ALL THE INTERNET MSGES,while i'm out enjoying myself.She drives me crazy.



Peek-tures!


The salesboy VS The difficult customer