Cindy.Chen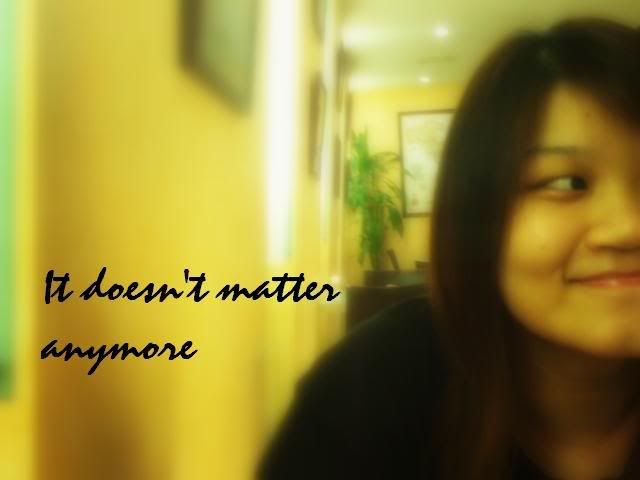 About ME


+25th Jan 1988.
+20 years old
+PSBAcademy.
+mhss.
+family.
+music.
+travel






Wednesday, November 21, 2007

Had the privilege to be among the first few to catch the sneak preview of the movie,'Enchanted',over at GV Great World yesterday evening thanks to Nuffnang!

I'd give it a 3.5/5 rating.It's quite a good show actually,comedy,alil remix of cinderella and snow white.And since it's a disney film,you should know it always ends with a '...and they live happily ever after.'

Since i've got a pair of tickets,i asked Wiki to go with me.Damn right person to bring along.She's always into this 'happily ever after' fairytale even till now.After the movie ended,she was like..

Wiki:CINDY~i want to watch again lor!it's damn nice!
Me:ok lah,not too bad
Wiki:and they live happily ever after
Me:WIKI CHUA,shut up!
Wiki:what?really damn nice lor.
Me:yah okok,then go watch ok?
Wiki:i really don't mind to watch again.so sweet lah..

SEE!She kept talking about it nonstop even when we were in the toilet.Super worth to bring this kinda person along.HAHAAHA!=D

Anyway,saw quite a few bloggers there too.Like,Xiaxue.Actually,she's the only blogger i can recognise.I mean,i don't really go and read the other so-called 'famous' blogs mah.

-----------------------------------------

Updates on the past few days.

Met up with Miss Piggy on Saturday after work at Holland V since she wanted to chill.We love to go places which have live bands and Holland V fits the bill perfectly but in the end,we had to in turn,entertain ourselves.

We waited for a good 2 hours for the live band YET they give us songs like..

'...i want to hold your hand~i want to hold your hand.oh please,say to me.you'll let me be your man.'

In case you're wondering,it's 'The Smithereens - I Want To Hold Your Hand'.

Wait 2 hours,come and give me this kind of song!Really never die before.To think that the WHOLE PUB were singing to it.MISS PIGGY TOO!Miss Piggy,kindly go reflect on yourself.

And since i can't stand those bedtime songs,we both nodded in agreement to leave.Spending another minute there it's like,reminding me how much i missed my bed.

So after leaving that place,we went over to Swensens and got a cake for Sam since we were planning to give her a surprise at her doorstep as her 'one of the birthday present'.I know it's super common,but please,you'll still be touched ok?At least for me.

Then on Sunday,we went to Clarke Quay and ate at this place(which i've forgotten the name)and DAMN,the rice was friggin good!!Garlic Butter Rice!I can still remember the taste momma!!You guys should really go try it.I'll go check out the restaurant name again.

Good service?Checked.
Nice ambience?Checked.
SUPER SCRUMPTIOUS GARLIC BUTTER RICE?CHECKED!

After eating,we went to eat again.

With Miss Piggy around,there's nothing to do except eating.Really.

So we went over to Haagan Daz for some dessert.So after eating,again,we were 'fighting' to pay bills(which only happens to those typical aunties..)

Miss Piggy:never mind i pay..
Sam:never mind it's ok,i pay.it's my birthday leh.so i'll have to treat.
Miss Piggy:shut up and keep your money.
Me:yah lah,it's ok i pay.
Miss Piggy:never mind,don't need.
Me:shut up lah.just now dinner you all pay what.
Miss Piggy:idiot,you damn smart hor!
Me:WHAT!!THEN YOU PAY LAH!!*throws wallet on the table*
Miss Piggy:*laughs like siao* OK LAH,YOU PAY LAH!

KNS leh that Miss Piggy!Believe me i'll slaughter you one day,turn you into a roast pig and pray to 'tua bei kong' before devouring you as my dinner.




see just how delicious is the rice!